We interviewed Ms. Kawamoto, whose solo exhibition will be held at Gallery Seek from October 15!
■Theme of this exhibition
I created this work targeting solid colors. In particular, the colors of highly saturated fruits and flowers are so lifelike that I feel as if they are life itself, and this uplifts my mood and gives me a sense of gratitude. I subtitled this exhibition "Celebrating Colors" to express my appreciation for colors.
■The vividness of the motifs increases with layers and layers of color.
If there is a color close to the motif, I use it as the original color for the first layer. Then I mix white, black, and earth colors on the palette and put them on the screen, or I put colors from the tube directly on the screen and draw in the style of exploring. After drawing once, I let it dry, but since the color saturation often falls, I re-draw it after grading it with a transparent color after the second layer.
As for the decanter of "Sai", I happened to find a color close to the decanter and used it as the original color, and for the glaze color after the second layer, I used a blue color with weak coloring property and repeated glazing and drawing several times. I often buy a lot of paints without knowing whether I can use them or not, because the colors are different from each manufacturer. I think I have quite a lot of paints in my box, but this time I used colors that I don't get to use very often.
■Be particular about the background so that the motifs stand out.
I have always liked dramatic expression, so I often use dark backgrounds. The contrast between light and dark in a group of motifs on a low-light background is large, making it easy to depict a sense of perspective and the three-dimensionality of the motifs themselves. Motifs with strong saturation don't look as tight as they do on a high-lightness background. The black I use is "Grape Black," a Venus oil paint by Harukura, which was introduced to me by Tetsuya Mishima. I like to use it because it is warm and not heavy black.
I am careful not to just apply one color. I try to avoid a dry and tasteless feeling by applying gradations to give a sense of gray even if the tone is light, or by lightly graying colors that I feel are effective for the motif if I feel it is necessary.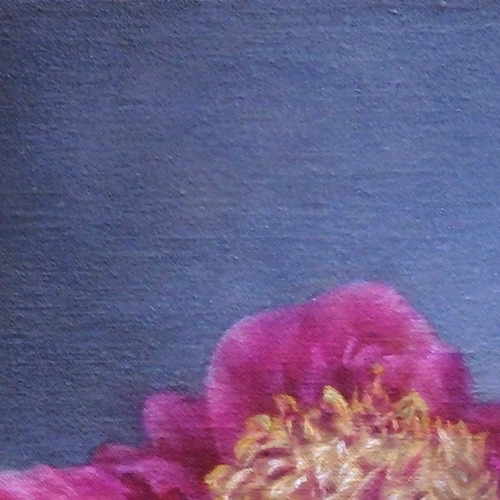 Shining in the Evening" F4 Enlarge
In "Shining in the Evening", I used a low light blue with grayish tints because a black background has the disadvantage of making the highly saturated color of the peony stand out too much, and because it was supposed to be in the evening darkness.
■We cherish the "live" atmosphere that cannot be captured in photographs.
In my larger still life paintings that combine fruits, flowers and antique objects, I value the atmosphere as if they actually exist on the screen, so I basically work with the actual objects that I have set up. I start by drawing from a fresh object, and if I foresee that I can't keep it fresh, I photograph it there and draw it using the image as a reference. It is difficult for me to draw only with the image itself from the beginning because it is hard to grasp the perspective and three-dimensionality. My goal is always to capture the scene and emotion that comes from a single picture. On the other hand, if I want to paint a single rose, for example, I start from the beginning relying on the image. First, I decide on the form and color, and once I have decided on the form and color, I put my feelings that I want to convey through the single rose.
■The airiness of the motifs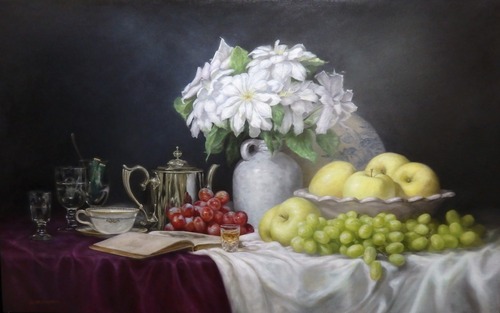 Gekka. M50
A peaceful moment under the white clematis… The time is night, and I put the atmosphere of the moonlight drifting in the blue gradation of the background. </The motifs in this painting are varied, as it is a large size (No. 50). The large size of the painting allows for a wide variety of motifs: the contrast of textures, such as the pale petals of a clematis in a sturdy vase; the contrast of colors, such as the reddish purple cloth and yellow apples; the silver pot and teacup, glasses of water and chocolate, and in the center a shot glass of whiskey and a tired book. I tried to create a rich variety, but also to create a consistent feeling of a relaxing and peaceful evening.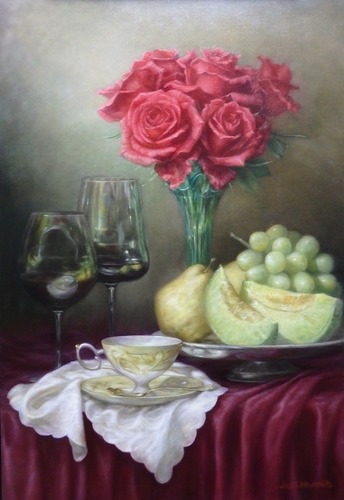 「語らい」M20
This work expresses the time of an elderly couple who have been together for many years talking in a relaxed manner. I used red roses as a representation of love. In the color flow, I used red for the wine and purplish red for the fabric to achieve color harmony.
■The charm that only Izumi Kawamoto can bring out.
I believe that the knowledge base I have learned in the decorative painting world is directly related to the way I create my work. I believe that the colors should be expressed beautifully and that there should be a harmony of colors that resonate with each other even when multiple colors are used. This is absolute for me, and I am always aware of it, and I think it shows in all my paintings.。
Also, to handle well the lines that show firmly and the lines that disappear, such as the background with soft gradation that gives a sense of light and "Lost and Find". Especially in large paintings, there are many motifs, so I try to create a composition that tells a story, and by showing Lost and Find well in addition to the harmony of colors, I can create a screen with atmosphere. I believe this leads to the originality of my paintings.
Thank you, Dr. Kawamoto!
The solo exhibition will be held from Friday, October 15 to Sunday, October 24.
Click here to read the previous interview.
◇2017 Interview.
Interview with Izumi Kawamoto : Gallery Seek Official Blog (livedoor.jp)
◇2020 Interview.
Interview with Izumi Kawamoto 2020: Gallery Seek Official Blog (livedoor.jp)
Izumi Kawamoto Oil Painting Exhibition "Celebrating Colors
Friday, October 15 – Sunday, October 24
venue:Gallery Seek
exhibiting artist:Izumi Kawamoto
Artist Visits: Friday, October 15 and Saturday, October 16, 13:00 – 17:00 each day


After studying decorative painting in the U.S., Izumi Kawamoto studied under oil painter Tetsuya Mishima. Each motif has a solid presence. And on the canvas, she aims to create an atmospheric color world by depicting the light that seems to pour into the painting and the soft light that is cloaked like a veil. The theme of this solo exhibition is "Celebrating Colors", and we present works that express our appreciation for colors. The colors of highly saturated fruits and flowers are so lifelike that you feel as if they are life itself, and they uplift your spirits and make you feel grateful. We hope you will enjoy viewing these new works, which will draw you in and make you want to keep looking at them.