We spoke with Fumiori Chiba, whose two-person exhibition will open on April 29th!
What was the concept behind the production?
I would like to make my works from the things, things and feelings that I have inside of me, such as time and seasons, and I would like to give form to these "momentary phenomena".
If I only capture a moment, I can express it with a photograph, so I create a comfortable space just for that moment by combining various moments and incorporating them into a single piece of work.
I want to make something that's just an image in my head, that's out of focus right to the edge, and I want to see it first hand and see how people feel when they see it.
Could you tell us about the theme of this exhibition?
I created "MUSHI" as a transient theme for the two of us with Kaori Mayume. The metamorphosis that changes the appearance and function of something that doesn't exist in humans. I have been interested in the mystery, functional beauty, and form of these things since I was a child. I was attracted by the interestingness and beauty of metamorphosis, hermaphroditism, and mimicry, which are not found in humans, and created this work.
Tell us about your production process.
①   Panel production with wood, etc.
I want to draw on circular or house-shaped panels and include tricks in my artwork, so I create my own panel shapes to match the content of my paintings.
Working on a panel is similar to drawing all the way to the sides of the panel. The space of the work continues to the outside, so it is a natural process for me to start with the panel.
②   Paper pasting (the method of pasting changes with the shape of the panel)
③   Bone drawing (ink, paint or pen)
④   Putting on color (paint)
The sparse pattern in the background is colored by tapping it with a sponge.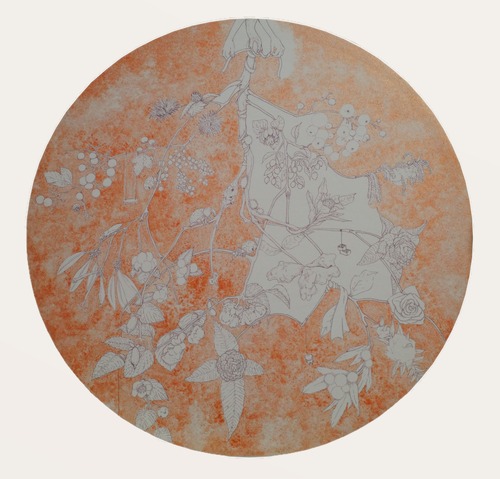 ⑤Draw the details with a pen.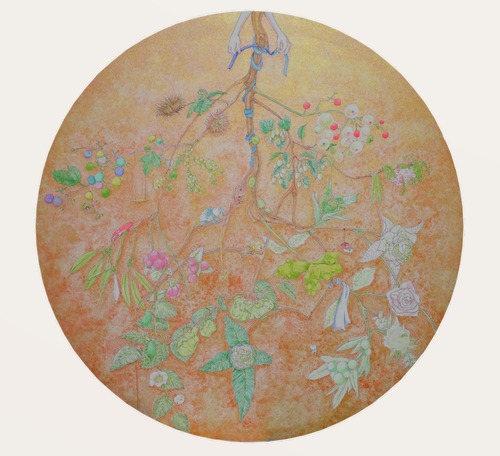 ④   (5) and finish it with repetition.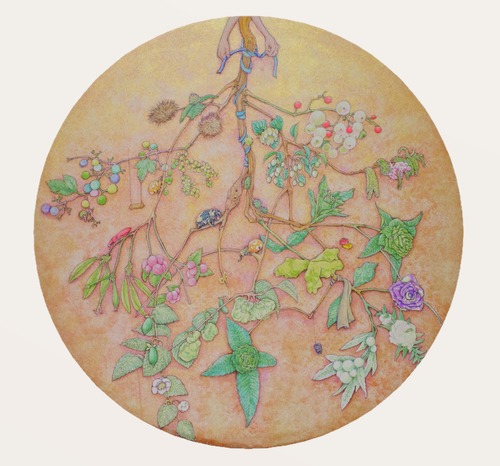 Tell us about your new work.


"The show's starting."
After larva and pupa, it becomes a butterfly. The beautiful wings of the butterfly open to deceive the eyes of the opponent, or it is an appeal to the opponent. It feels like a circus performer. How much of the expanding worldview is staged, who is being fascinated, and who is watching or being watched? Which one are you? Please look at it from various viewpoints.
"Ahahi."(Bleak)
The space between what is and what is not exists in the mind of each of us in various ways. Some insects have a gynandromorph, which means that the left and right halves of the insect are clearly divided into male and female forms. I thought it was very ambiguous and beautiful that they are neither male nor female, even though they are clearly separated in appearance, and created this work.
The spherical motifs depict plants on the ground and corals in the sea. I would like you to see the mysterious space where the beautiful charms of both are coexisting.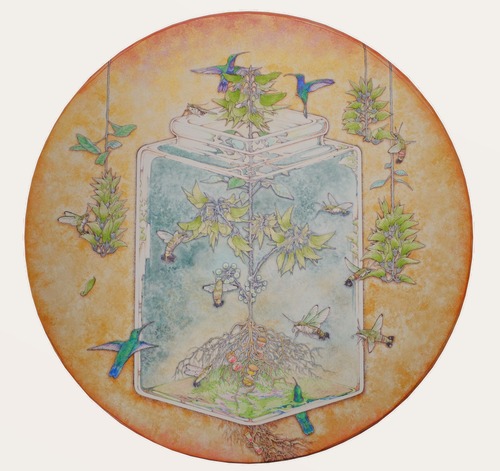 "Nitehinal."
A hummingbird, a small bird that hover and suck nectar from flowers. The motif is based on a moth called "Ooskashiba" which also hover and suck nectar from flowers. Although they look similar, the oskashiba is not a hummingbird but a mimic of a bee. There is also a plant that resembles a hummingbird called the Green Flower Bird, although it is impossible to mistake it for a hummingbird.
Hummingbirds and oscines are not in the same environment, they imitate different things, but for some reason they look alike. They are completely different. I think this kind of coincidence, which is different from watching them carefully, and which you feel at the moment, is also beautiful. I was able to see the creatures in different environments in the bottle and hozon them within myself.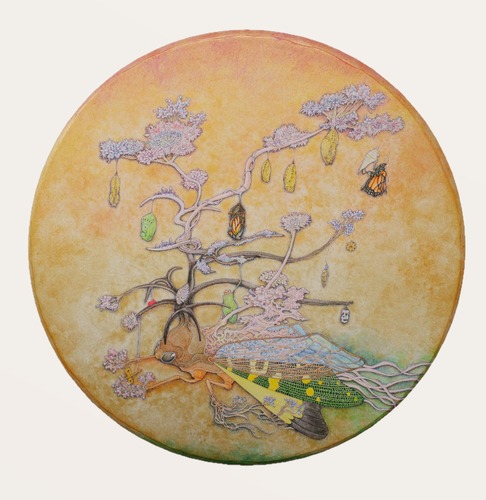 "Don't ask."(Dressing up, not listening)
A parasitic figure that is unnoticed (or unheard of) before you know it. Metamorphosis from larva to pupa to adult. Both seem to be beautifully dressed to me.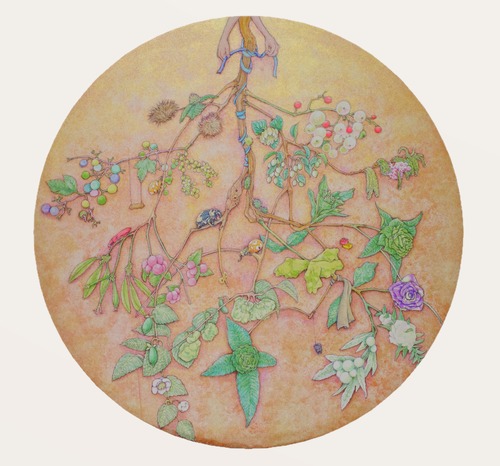 「Biotecture」≪Biotechture = a method of architectural design that incorporates plants.
There is something called a gall, which is a parasitic plant or tissue that grows and enlarges abnormally as a result of some kind of stimulus from an insect or fungus. Some of them are beautiful, some of them are weird, but there is a sense of art in them. I would be happy if you can feel the wonder and interest through my works (art) of art made by insects and grafting art made by people.
This time, the motif is bugs, and the backgrounds are all gold, but in other works, the backgrounds have different colors and motifs are drawn in various ways.
How are the background colors and motifs decided?
I draw the background of my works as a "space" that continues. I don't think of gold as a strong color in my mind, so I often use it unconsciously to make the most of the motif. I think I simply have an image of gold leaf when I think of Japanese painting, and I think I have a longing for it, or perhaps I simply like it. The backgrounds of the works in this exhibition are mostly gold, but I also put different colors on the backgrounds for each work. Of course, I sometimes use a black background when I have a strong image of the deep sea or the universe, which is deep and wide and continuous.

"and glasses."
When I feel that movement is necessary in my work, I draw motifs such as people, but I draw beings that are not people for the face part. For example, if a camera is the face of a person who wants to save something, I sometimes draw a humanoid character with the face replaced by something else to express what the motif itself is thinking and what it does or wants to do. I sometimes draw a humanoid character with the face replaced by something else. I think that this motif makes it easier for the viewer to understand what I want to express in my work.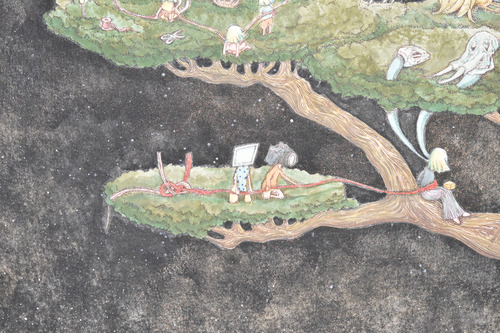 Some of the works of "Miltoy Ukoto

Is there anything that has changed between the past and the present in your artwork?
I used to work at an aquarium, and I had the opportunity to see fish in front of my eyes, so I started to draw motifs not only from my own image, but also after observing them carefully. I also thought about the functional beauty of why they were shaped and colored the way they were, and even after all this time, I think I have changed the way I look at them. I think I have started to think about combinations from different perspectives, rather than just the interesting appearance of the motifs. What I want to draw has not fundamentally changed, and there are many motifs that I have often drawn in the past, such as insects, fish and other living things, which is the theme of this exhibition, and gears and screws.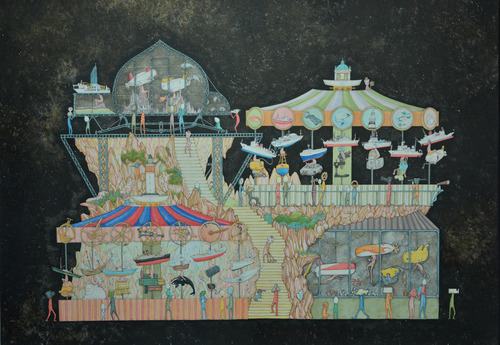 「MUSEUM」
When did you decide to become a writer? Please tell us about any events that inspired you to become a writer.
When I was a toddler, I painted every day and wanted to be a painter, but as I grew up I stopped seeing it as "work" and just painted because I liked it. I didn't imagine my current situation where I am exhibiting my works until around the time I graduated from university. I had no idea that I would become an artist, and my teacher's words guided me through the uncertainty of not knowing what to do. I am grateful for the many encounters and connections I have made.
What artists and works have influenced you?
When I saw Manabu Ikeda's "The History of the Rise and Fall" for the first time after I left university and moved to Tokyo, I couldn't move from in front of the painting. I remember watching it for a long time because it was so interesting to see it both up close and from a distance. I wish I could create a work like this that would enthrall anyone who sees it. Of course, I am also influenced by Ukiyoe, Gaudi, Dali, Magritte, Archibald, Hieronymus Bosch, Billy Bing, Bruegel, Disney, Fujiko F. Fujio and many others.
Some of the works expressed the flow of time by incorporating the atmosphere of Ukiyo-e. I think there is a lot to be gained by coming into contact with the world of each artist.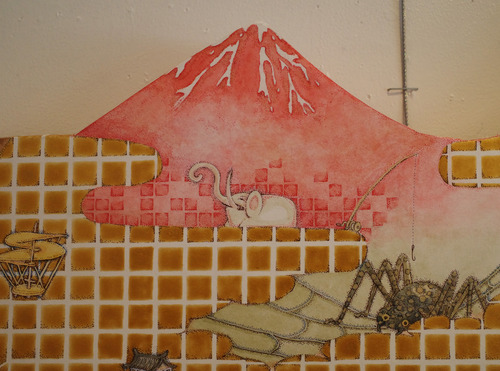 「the year 2000」Some of the works
What is your most important attitude as a writer?
I draw what I want to see. The image in my mind is not in focus, so I take it out of my mind and draw it, because I want to see every inch of it. I want to see every detail of the work, so I take it out of my head and draw it. I feel that if I don't like the work first, it won't be conveyed to the viewer.
Which of the works in this exhibition would you like people to see the most?
I want people to see all of them, but the main work, "Ahahi", is between something and something else, between something clear and something ambiguous, I drew it to create a small and strange but natural space. The boundary line changes as time goes by. (The guinandromorph in the center is clockwork as a means of expressing the change in the boundary line with time.) I hope that viewers will find the gradation of "Ahahi" as appealing as possible.
What are your dreams and goals for the future?
I will never stop drawing, so I will do my best so that everyone will have another chance to see my work.
Thank you, Dr. Chiba!
The solo exhibition will be held from today, Thursday, April 29 to Sunday, May 9.
Chiba-sensei will be there on April 29th, May 1st, and May 9th!
Please take this opportunity to view the exhibition.
Kaori Mayome and Fumiori Chiba Two Artists Exhibition -Mushi-HENTAI-" (Japanese text only)
Thursday, April 29 – Sunday, May 9
venue:Gallery Seek
exhibiting artist:Sotome Kaori、Shiori Chiba
Writer's day: May Lady of the Year: April 29 (wood) and May 8 (earth) 13:00-17:00 on each day
Shiori Chiba: Thursday, April 29, Saturday, May 1 and Sunday, May 9, 13:00-17:00 each day
Kaori Mayume, a graduate of Tokyo University of the Arts in conservation and restoration, uses traditional techniques to create works that are uniquely her own. Shiori Chiba gives form to the things, things, and feelings that are inside of her as her works of art. This time, we will present bugs as the transient theme of the two artists. Mushis account for 80% of all land creatures, and boast an extraordinary diversity compared to other animals. The metamorphosis that changes the form according to life is an indispensable theme in knowing their ecology that has survived for a long time in a variety of ways, and makes us feel the mystery of life. Fascinated by the beauty of bugs and their ecology, how do Kaori Mayume and Fumiori Chiba sublimate their interest in bugs into art? Please come and see "MUSHI -HENTAI-" by these two graduates of Tohoku University of Arts.