Yuko Kitajima's solo exhibition will be held at Gallery Seek from 28 April.
The most important aspect of Yuko Kitajima's work is the "edge". Her works have a strong fetishism that questions where the root of beauty in beauty painting lies, and an elegant expression that accentuates this fetishism. Under the theme "Fetish with elegance", the exhibition explores the possibilities of the one and only beauty painting that can be created without depicting the face.
The subtitle of this year's exhibition is "Obsession". In addition to the hairline, which she has been obsessively drawing for some time, she also incorporates "fluttering, thin, transparent things" and "repetitive, delicate things" into her work as her unique Obsession.
■Fetish x Classy
The subjects of my paintings are often female figures, but I try to be as obsessive as possible in my depictions of fly-aways.
The most primal and intense motivation for my paintings comes from the pleasant tension I felt when braiding my younger sister's hair as a child, and the contrast between her white scalp and her fine black hair, which I found sincerely beautiful.
Then, when I try to depict the poetic sentiment of a woman who is difficult to grasp, like a mist or smoke, I often draw the expression and materiality of the clothing and ornaments worn by the figure.
Clothing and decorations cover the skin but sometimes reveal the inner self.
While I want to depict what I love obsessively, I think it is an eternal theme to depict a portrait that has a certain elegance at its heart, and to liberate and allow myself to do so.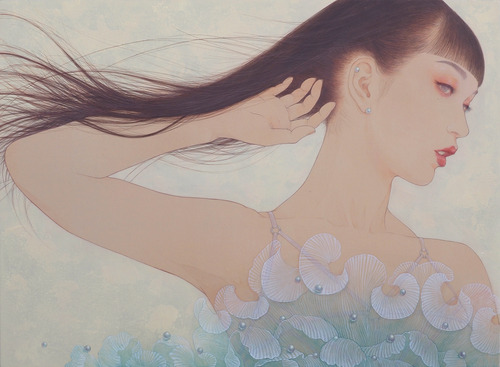 "Blowing in the wind" P8
■Inspiration for facial expressions, clothes, hairstyles, etc.
Because of my mother's fashion work, there are piles of imported fabrics and fashion magazines in my home workshop, and I've been looking at them since I was a child. I learned Madonna's Erotica in my adolescence, and when I saw him wearing Gaultier's costumes and authentic bondage fashion on the Blonde Ambition Tour at the time, he said, "I am full of confidence that I am creating the times using fashion and music." For me, the astonishing Kurofune experience that will haunt me for the rest of my life was the shocking experience of being exposed to the expression of art. After that, I got hooked on the supermodel boom of the 90s, and I still can't get rid of my tastes from that time.
In my 30s, there was a time when I was involved in fashion-related illustration and writing work, and I was blessed with the opportunity to cover several seasons of Chanel's haute couture presentations. Witnessing the craftsmanship of materials and embroidery, and the protective spirit of the Maison's craftsmanship. During those few years, I was able to observe a lot of beautiful things that I wouldn't normally see in a normal life.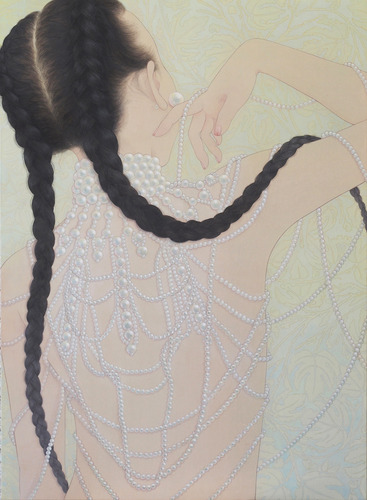 「Dress Obsession」 P30

■The theme of this solo exhibition「Obsession」
"Obsession" has a meaning like "obsession, obsession, delusion, addiction, obsession, predilection".
I still haven't completely grasped my "Obsession" yet, but I hope to be able to dig deeper through drawing. This time, in addition to the hairline, I tried to draw "fluttering thin things, transparent things" and "repeating delicate things".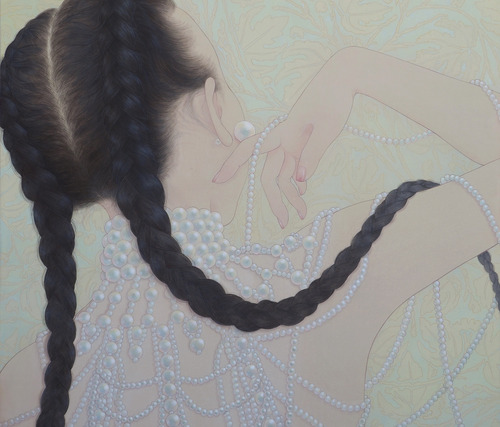 「Dress Obsession」 P30 Partially enlarged

■fetish roots
I like the contrast between the white skin, the scalp, and the black hair on the hairline, and I think I remember the fetishism in the "repeating delicate things" where fine things are aligned and repeated.
For example, like the pearls and red dress on display this time, it's painful and fun to draw "repeating delicate things". As for the support, the canvas was the best for expressing the pores on the scalp, but it is not suitable for me other than expressing pores, and I have given up crying and I am currently in the midst of ongoing twists and turns.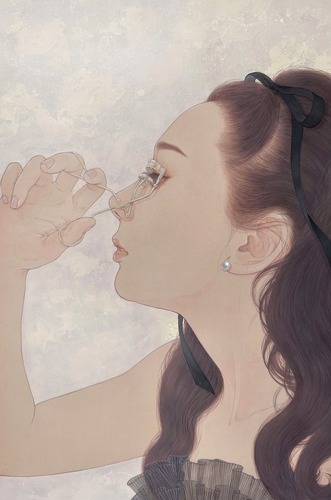 "Ribbon and Metal" P6
■A woman's poetry polished by imagination
I want to draw the poetry of a woman who is difficult to grasp, like fog and smoke that seem to be grasped but cannot be grasped. It's actually a troublesome and troublesome thing, but it's a picture. Personally, what I find attractive about him is that he's a powerful, professional person.
I often draw women from behind, but I feel that not drawing the face, which can be said to be the heart of bijin-ga, gives it a strange charm. I think that "giving off and receiving sex appeal" varies considerably depending on the imagination and accumulated experience of the recipient. So I think that it will be completed with the imagination of those who feel something in the back and find it attractive, and I would like to cherish the back as a motif.
Thank you very much, Mr. Kitajima.
The solo exhibition will be held from April 28th (Thursday) to May 8th (Sunday).
April 29th (Friday) and 30th (Saturday) Mr. Kitajima is scheduled to attend from 11:00 to 16:00 each day.
Please take this opportunity to have a look.
"Yuko Kitajima Japanese Painting Exhibition -obsession-"
April 28th (Thursday) to May 8th (Sunday)
venue:Gallery Seek
Exhibiting artist: Yuko Kitajima
Artist visit dates: April 29th (Friday) and 30th (Saturday) 11:00-16:00 each day