We interviewed Yui Takatsu, who will hold a solo exhibition at Gallery Seek from March 23rd!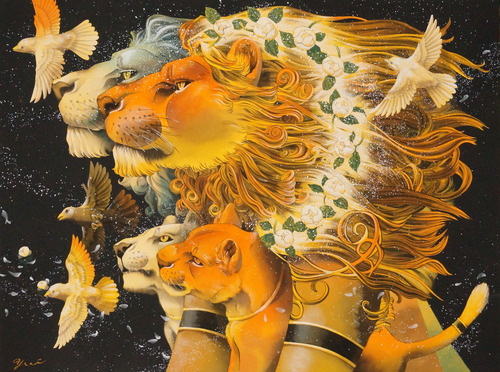 "Slip" P20
■production concept
Using natural objects as the main motif, I work to convey their latent charm (beauty of color, powerful vitality, etc.). Also, I believe that they have their own deep world that they cannot easily read. Imagining and immersing myself in such a world, I continue to express it on the screen.
■The theme of this solo exhibition
is "Exhibition of paintings that record the inhabitants of a certain kingdom."
I have been wanting to create decorative works for a long time, and since last summer I have been working on the idea little by little. This time, in order to create a screen that strongly conveys the story of the theme of the solo exhibition, "Residents", I also studied how to depict animals, and tried to adjust the relative weight of decorations and animal depictions.
I have long believed that every wild animal has its own personality, that they live while thinking and feeling, and that they have distinct characters, and that stories are attached to them. rice field.
This time, in addition to the contents, by having them wear accessories, we have emphasized the narrative through strong anthropomorphization.
■The stories that can be put into the decorations
I am not familiar with ancient civilizations, old histories, and fables, but I really like them. I have long been fascinated by
I likened them to create new stories myself, and I use them in most of my works.
I especially like Egyptian art, and I often refer to colors and shapes. This time, there are a number of works in which I considered the composition by referring to Egyptian art's method of expressing the human body with fixed ratios and decorative expressions, as well as the famous tapestry "The Lady and the Unicorn" and works by Alphonse Mucha. As for the decoration, I thought that it would be an element that would make it easier to connect the creatures on the screen with the people who saw the work, so I tried to make it a friendly expression.
■ "General store owner"
First, think about what kind of ornaments would be appropriate to convey the characters of the animals that appear. For example, "The owner of the general store" is particularly strong, and I even thought about the story in which each ornament was given to a bighorn sheep.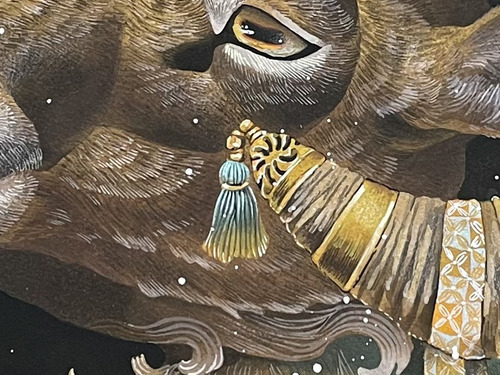 "The accessory with a fur that looks like a cover for the tip of the horn was given to him by his parents when he was born, and it is said that the I hope that the creatures of the world can grow up in an environment that doesn't hurt them."
In addition, as the general store's philosophy, I set the concept of "continuing to be involved in the lives of the people of the city from the beginning to the end", and as a symbol of that, I drew the sun, the moon, and the rose buds and the state beyond full bloom.
■"Market Return"
"Market Return" is about the fox, who tends to be treated as a representative of sly characters in fables, instead of using his own money to buy things and return home. Depicted as a fox attached. (Individual property) At first glance, it looks like a fruit that has just been picked up from somewhere, but if you look closely, you can see that it has a small purse tied to its left front leg, and it is possible that it was purchased by itself. suggesting.
■Production process
[Preparation stage]
I often go to the Higashiyama Zoo and Botanical Gardens in Nagoya to make sketches, and I often work while looking at them. When I feel that I can't draw an accurate depiction of an animal with just my memory and sketches, I often compare it with the pictures I took while sketching, or check reference books on animal anatomy and encyclopedias. Also, when drawing motifs that have never been seen in real life, I draw ideal lines based on various materials.
[Production]
(1) After sketching out a rough idea on a separate sheet of paper, I draw a rough sketch directly on the watercolor paper pasted on the wooden panel. Finally, the line art is drawn neatly using a mechanical pencil with a hardness of 0.3mm and 2H.
2.Thinly apply several base colors to the entire surface until you can barely see the line art.
3.While looking at the balance, add unique colors and shadow colors to the motif here, and if necessary, fill in all the background colors along the way. (Single black, etc.)
When the work is almost complete, add a lot of white or gold paint to the brush and scatter it over the canvas to express the grains of light and the flow of air.
Complete by signing.
[Material]
Acrylic paint is the most suitable for my expression at the moment. Because I thought there was I have tried several painting materials since my school days, but among them, it is just right in terms of water-based, opacity, color development, and texture.
Sharp pens and ballpoint pens are used as drawing materials for line drawings. Of all the painting materials, I have my favorites because they are familiar with my hand, and as a result of trying various materials, I think that when combined with acrylic paint, I can leave a line that is close to the expression I am aiming for.
[Point]
To draw the whole motif, By using the suppleness of the animals' bodies and being conscious of posing with a slow and slow pace, we express strength. In particular, when it comes to expressing the facial features, we pay close attention to facial expressions, such as how the eyelids close and how they rise, as well as the corners of the mouth and cheeks.
Thank you, Takatsu-sensei!
The solo exhibition will be held from March 23 (Wed) to March 29 (Tue).
From 13:00 to 17:00 on March 26th (Sat) and 27th (Sun) Mr. Takatsu will also be attending!
Please have a look at this opportunity.
"Yui Takatsu Solo Exhibition -Wildland-"
March 23 (Wed) – March 29 (Tue)
venue:Gallery Seek
Exhibiting artist: Takatsu Yui
Artist visit date: March 26th (Sat) and 27th (Sun) 13:00-17:00 each day


Using animals as the main motif, Yui Takatsu is trying to convey their latent charm, such as the beauty of their colors and their powerful vitality.
I think that they have a unique and profound world that we cannot easily read, and I continue to express it on the screen while imagining that world. .
By being conscious of the slow and slow poses of the animals, the suppleness and strength of the body can be expressed, and the eyelids, corners of the mouth, cheeks, and other facial expressions can be expressed. By combining , each individuality is produced.
In this solo exhibition, I have left behind a depiction of the inhabitants living in "Wild Lands," a wild kingdom nurtured by the natural world that we cannot reach. rice field.
Yui Takatsu, who majored in design at university, has experimented with various methods of expression beyond painting, such as mural painting, live painting, and illustration. Please take a look at the world of works.