We spoke to Tomoya Aoyagi, whose solo exhibition will be held at Tobu Ikebukuro from 20 January!




'Glass ball drawing'.F20
■Production concept
I seek to see the reason of nature and the mass that lurks in space.
There are many motives for wanting to paint, from the fresh life force to that which drifts in decay.
Starting with an insight into the essence, I express that world in paint.
If what I am looking at is an actual object, its mass, or if it is a photograph, the mass of the photograph is depicted on the canvas, so I still want to follow the actual, here-and-now space. Even if it is difficult to paint every detail, I feel a thrill in embodying the three dimensions on canvas.
The way I use my eyes when I observe is very different from when I look at something casually, with the naked eye I can focus freely and I feel more deeply involved with the object.
I am attracted to the depth of reality that can only be expressed in photography and seen with the naked eye. I always want to look at each individual object with the same attitude of receiving from nature.
The reality that is casually lying around is full of leanness and rawness, and I draw to pick up as much of it as I can.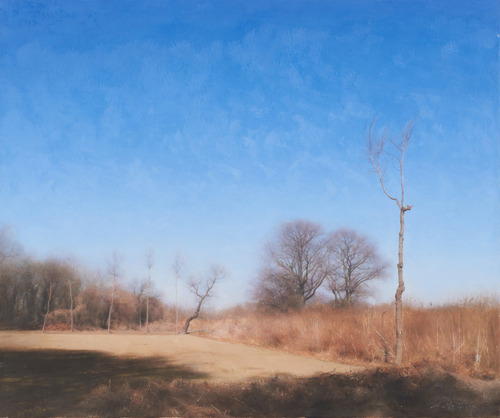 'Afternoon Wasteland'.F8
■Influential authors.
Morandi was told by people around him after he started to present his paintings. Since then, he has been in the forefront of my mind when I create. Wyeth's landscapes, for example, are close to the expression of nature that he is pursuing. They resemble the places where I used to go fishing as a child, and I can even feel the desolate, winter-dried air irritating the back of my nose. Corot and Carrière are other painters I like. There are not a few artists who have influenced me, but often a work I suddenly see has an unexpected effect on me. I want to cherish the feeling that they open doors I didn't know existed.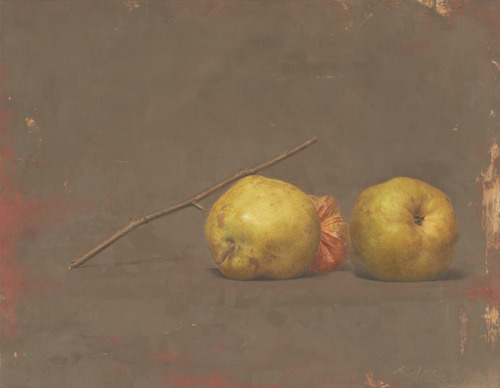 Two LaFrance.F6
■Scars and dirt are part of the passage of time.
Even if it is just a piece of fruit, I always pay attention to whether or not I can feel the change of time, or whether youth and old age coexist in the same place. Personally, I don't use photographs except for landscapes, so I try to fill the distance between me and the objects with my two naked eyes. Nothing has changed since I was a child. I try my best to see, touch and feel with my eyes. That's all I have, and I think that's enough for me.
Scars and stains are created by the waves of time, so I drew them as a metaphor. Accidental scars are the most important, but they can't all appear in the most convenient places. I want to be faithful to nature, but at the same time, I think it is a necessary direction as a painter.
■Production Procedure
This is a general production procedure. Commercially available ground paints are applied to the canvas, and after drying, the canvas is primed with Camaille. After that, I follow the form while coloring it by using several different oils with neopainting oil as the axis.
I change the arrangement of the composition many times, and after some time, I revise it again. In the end, I rely heavily on my own experience. I've made a lot of mistakes, and now I'm here. I am often the most surprised by the end result, when the content of the project changes completely from what I had planned. I always remind myself to give way to coincidence and that my own ideas are only a starting point.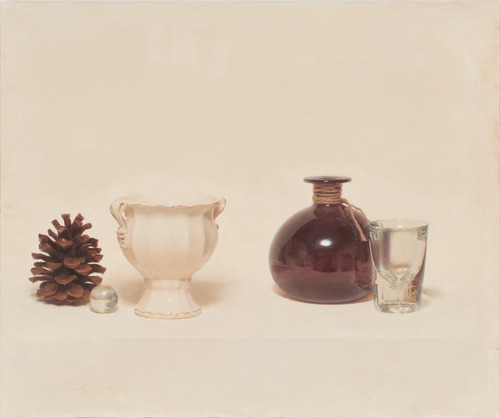 「グラスと小瓶」F8
How can I express with paint what I understand and what I am moved by when I touch the subtleties (nuances) of things around me? The subtitle of this exhibition, "Small Window of Nuance," was named with this intention. The theme does not change drastically each time I hold a solo exhibition, but I think I have focused on reality more than last time and made the content simpler. I would like to remove what I feel is excessive as much as possible, and pursue the tension that this creates.
Thank you, Mr. Aoyagi! The solo exhibition will be held from Thursday, January 20 to Wednesday, January 26. Aoyanagi-sensei is scheduled to visit the exhibition on January 22(Sat) and 23(Sun) from 13:00 to 17:00 each day! Please take this opportunity to visit us.

Tomoya Aoyagi Oil Painting Exhibition – Small Window of Nuance
Thursday, January 20 – Wednesday, January 26
venue:Tobu Department Store Ikebukuro 6F 1 Art Gallery
exhibiting artist:Tomoya Aoki
Artist Visits: Saturday, January 22 and Sunday, January 23, 13:00-17:00 each day

I want to continue to take the time to confront the real thing without fear. Tomoya Aoyagi says, "I want to be realistic to depict transitions rather than still images. He looks at each individual object, from its fresh vitality to that which drifts away in decay, and as much as possible picks up and depicts the lean rawness that overflows in the reality that lies casually around us. By depicting the scars and stains on the screen that are created by the waves of time, the artist creates a tasteful atmosphere of youth and aging and the transition of time that is mixed in there.
The theme of this solo exhibition is "Small Window of Nuance". How can I express with paint what I understand and what I am moved by when I come into contact with the subtleties (nuances) of familiar things? I will pursue a sense of tension that arises from the simplicity of expression by removing as much as possible what I feel is excessive.