We spoke with Makoto Fujii, a teacher who is currently holding a solo exhibition!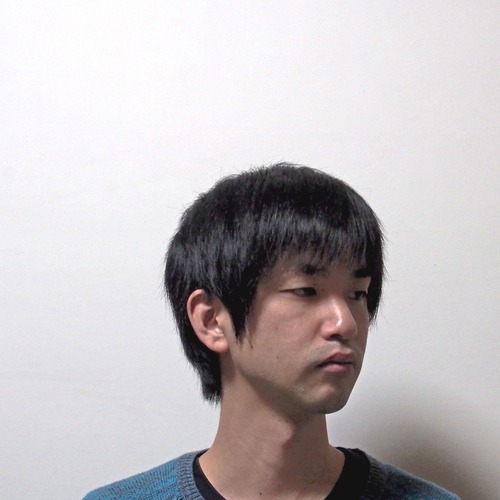 –This will be your first solo exhibition at GallerySeek in about four years.
Have there been any changes in your state of mind during the course of your production? I was working as a part-time lecturer and creating artwork at the same time during the past year, so it was frustrating that I could not find as much time as I wanted to.
The challenge for me was how to take on new challenges.
I think some of my works have changed a little, but I do not think that the old ones are bad.
I think I am the type of artist who changes little by little, coming and going, rather than changing suddenly and drastically.
-For example, what do you feel is changing?
It may be difficult for viewers to understand, but I am gradually doing new things, such as incorporating new motifs, changing the use of colors, and changing the base color.
In this solo exhibition, too, I have often painted stopped water in the past, but this time I took on the challenge of water flowing and moving.
In addition to this, I am hoping to create a sense of humidity or dampness in my work.
The subtitle of the exhibition, "The Sound of Water Blooms," was chosen with the hope that the viewer will be able to hear the sound of the water.
I wanted to emphasize the splashes in this work, which is also the subtitle of the exhibition, so the background is dark and the surface of the water is painted with a low level of detail.
I used watercolors to express the splashes by bouncing the brush.
Watercolor on oil repels water, so it is possible to paint small circles.
-What made you decide to try your hand at "flowing moving water"?
I wanted to paint this place through an encounter with an inspiring landscape.
When I incorporate new elements, I discover many things.
I have been painting water motifs for a long time now, and I never get tired of them.
I have a concept of Western-style paintings that only Japanese can draw….
When I thought about how to express the "beauty of margins" in Western-style painting, I thought that clouds, sky, and branches reflected in water could express margins as "a world that is not actually visible but can be seen through reflections.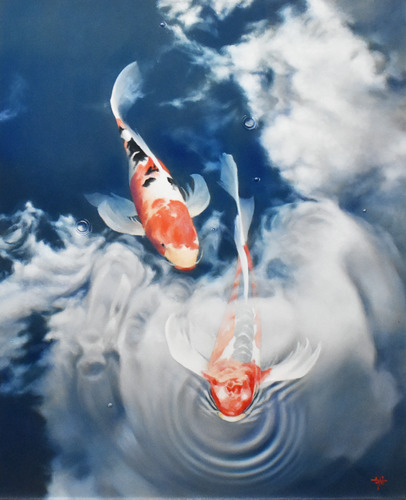 "Shaking the Sky" F15 

I did not want the work to be realistic but realistic, so my theme was "gently and gently".
I tried to create a work that shows a small number of moves and gives the viewer a sense of movement.
I am happy if the viewer can feel the beauty of the world by imagining the parts that are not depicted, such as reflections in the water, or by daring to paint from an angle close to the subject.
Please tell us about any episodes you had in the places you covered.
I visit Shimoda every year with my family, where I cover the sea works.
It is one of the best water quality beaches in Japan, and even the color of the sea changes depending on the weather and wind, so it is fun just to watch.
This year, the strong winds and high waves made my 6-year-old daughter squirm, but I felt she had grown up as she bravely took on the sea.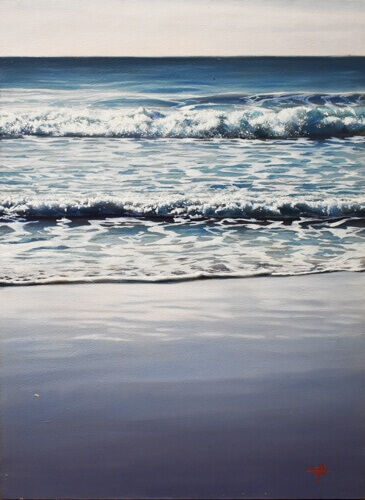 "Purple Morning" P8 

-Please tell us about the work you would most like us to see in this exhibition.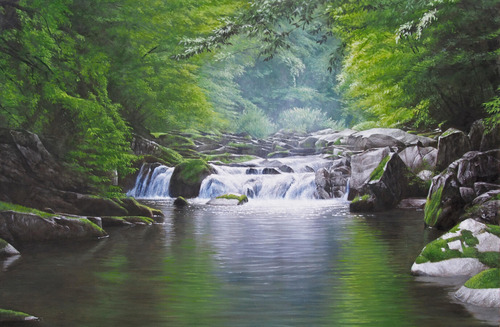 -Where is the location of the "Seikyuu Furukawa" interview?
It is a place called Choutankei in Tono City, Iwate Prefecture.
Huge granite rocks have been eroded into a staircase shape, just like tatami mats.
I visited there during the green season, but it is also known for its autumn foliage.
I had never painted flowing water on a large screen before, so I had a hard time expressing the movement of water.
I think I was able to express a tranquil atmosphere with movement.
–How often do you go to the beach?
I go away three to four times a year, including family vacations.
When I travel far from home, I do my research, but when I am in the neighborhood, I just wander around with a camera or sketchbook in hand.
Recently, I often search for places on social networking sites.
–What artists and works have influenced you?
Monet, Ryohei Koiso, Masato Yoshioka
I learned motifs, composition, and perspective from Monet's paintings, a calm and warm gaze and precise technique from Koiso's paintings, and the belief that painting should be like this from my teacher, Masato Yoshioka.
–Your former teacher, Mr. Masato Yoshioka, was a professor at your alma mater, Saitama University, wasn't he?
Yes, he was.
I remember his words, "I want to create works of art that will be treasured by people in the future, when they find them several hundred years after my death, in a completely different language and culture. These are the words of the artist.
I want to express the universal strength that lies beyond trends.
-What are your dreams and goals for the future?
In order to do so, I would like to create works that will please the viewers.
–Lastly, please give a message to the viewers of your solo exhibition.
Although my works are not flashy and conspicuous, I did my best to make them so that viewers will never get tired of looking at them.
Please take your time and look at the actual work.
Thank you, Professor. Fujii!
The exhibition will be open until December 22 (Sun.).
On Saturday, December 21, Mr. Fujii will be at the gallery from 1:00 to 5:00 p.m.
Please come and see the exhibition!
Click here for past interviews.
Please also read this page.
http://blog.livedoor.jp/soratobu_penguin/archives/9187506.html