We interviewed Ms. Kaoru Suga, who is currently holding a solo exhibition at Gallery Seek!
-Please tell us about the theme of your solo exhibition.
This solo exhibition will be divided into two themes, one for the first half and the other for the second half.
The first term, "Aqua," explores the fundamental image of water.
The second term, "Flowers," will focus on the theme of seasons in a circle.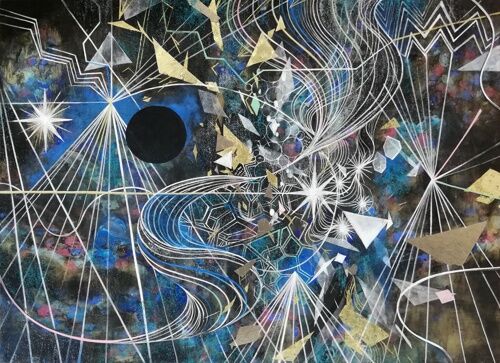 Origin (black circle)" F4 from the Aqua series of the previous term
The lines and forms depicted in this work are mainly taken from objects in the sea.
Something like a black hole, which was not depicted in the previous works, appears in this work.
-What made you decide to divide the theme of the exhibition into the first and second terms?
I decided on this after consulting with Gallery Seek, the venue for the solo exhibition.
I usually exhibit various series of paintings together, so this time, since I had this opportunity, I decided to exhibit them separately as a trial.
I wonder what kind of reaction you will have if you see only the first half of the series or only the second half, whether you will have a different impression of my paintings and think they are both different people, or whether you will find similarities in both of them.
-Is there any difference between each series in your mind, Mr. Suga?
I use "water" as my motif, but I have painted many different series from it.
I think it would be nice if I could create works like a tree that grows many branches and leaves and bears fruit, so I don't control myself too much.
I paint whatever I want to paint, and I think there is no point in painting unless I am constantly making new discoveries.
I hope that by narrowing down and arranging the paintings from one series that come out of such production activities, I can further see the differences among them and make one compelling point.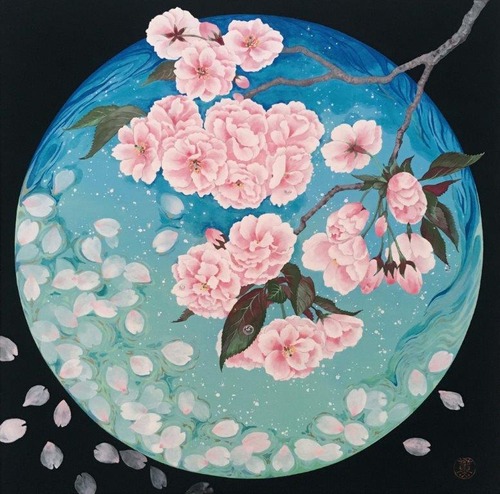 S6 "Peony Cherry Blossom in a Circle" from the Flowers series of the previous term
Circulating water and seasonal flowers. Encapsulating eternity within the painting.
-This is your first solo exhibition in about two years.
I was grateful for the opportunity to hold a solo exhibition, and I realized that it had been two years since I had last held one.
During the past two years, I have had the opportunity to paint pictures for print media, such as the monthly cover art for a tea ceremony magazine and my first picture book, and I believe that I have gained experience in thinking about the reaction to my pictures on paper.
I wanted to draw pictures that would speak for the feelings of the viewer, and I also wanted to create artwork that would make people want to see the original artwork of these pictures.
-This is the second year in a row that you have been selected for Tea Ceremony magazine.
Was there any difference in your awareness of the work for the tea ceremony magazine compared to your usual production?
Yes, there were.
The color issues with printing, and the fact that the book will be reduced to a size that can be held in one's hand, were taken into consideration from the drafting stage as well.
I think there is a difference in impression between seeing the actual painting and seeing it in a book.
For example, even if the colors are not as good as in the book, I made an effort to think of points such as direct images that give a sense of the seasons and composition at the beginning of the process.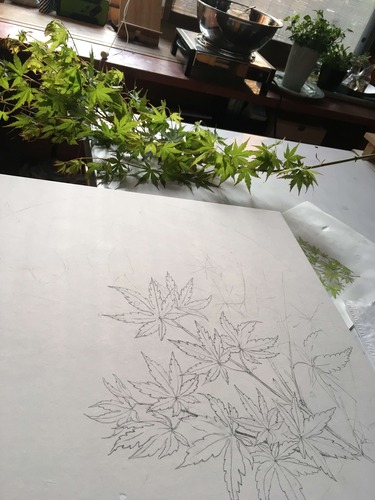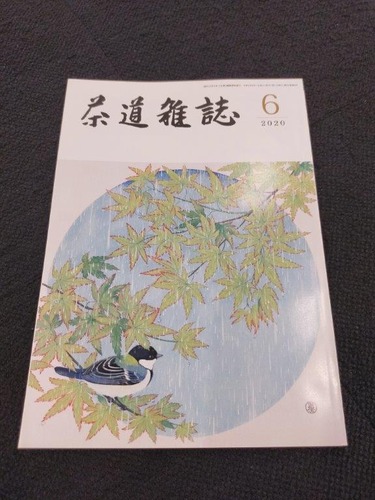 Tea Ceremony Magazine June Issue
Exhibiting at a venue means that the viewer can see the actual work in whatever light conditions are available on the spot, but this is not the case with printing.
When I look at my work again at the size of a book that fits in my hand, I can see the picture more objectively, and I have learned to prioritize what I want to convey and make adjustments at the color proof stage, rather than focusing on how close to the original image I want it to be.
-Did it have an impact on the changes in your work?
I think my repertoire of work has increased as I have learned the fun of expressing a sense of the seasons.
At the same time, I think I have become aware of the things that I do not want to change as part of my personality, and the things that I do not want to change.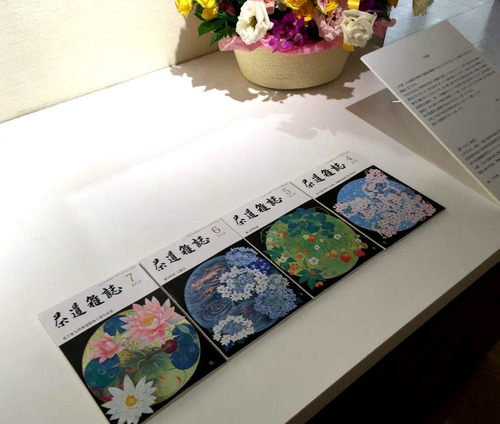 -What is something that Mr. Suga does not want to change?
I think it's the colors and the characteristics of the lines.
-How do you get inspiration for your work?
I get inspiration from daily discoveries, plants, and natural objects, and I keep a lot of stock in my mind.
Once I start painting, I interact with the screen to create the picture.
Specifically, when I paint plants, I sketch them, or I put shells on the table and observe them.
I sometimes paint, not realistically, but using the image of life, color, and shape that I feel from the plant to create a picture.
The interesting thing about painting is that you can take what is in front of you or in your mind and
The interesting thing about painting is that you can take something that is in front of you or in your mind and make it into something else by drawing it.
-What inspired you to create the picture book "Boku no tsuri" (My Fishing), which was just released in April?
My father had published several picture books, and he passed away when I was still trying to draw many more.
When I was sorting through his room, I found a lot of notes and rough sketches of ideas for picture books.
They were neatly sorted into envelopes, and I thought that maybe he had organized them in a way that our family could see them.
I could not leave it as it was, so I shamelessly sent a cardboard box to the publisher and asked if there was any way to turn it into a picture book by making some corrections and adding my own drawings where they were missing.
I had been waiting for a response for about a year, and just when I thought it was over, I received a call from them.
They said that if I edited the story based on my father's original story and drew all the pictures, they might be able to make it into a picture book.
Since this was my first picture book, it took me three years to complete it through a process of trial and error with the editor.
It was exactly 10 years after my father's departure when the picture book was completed.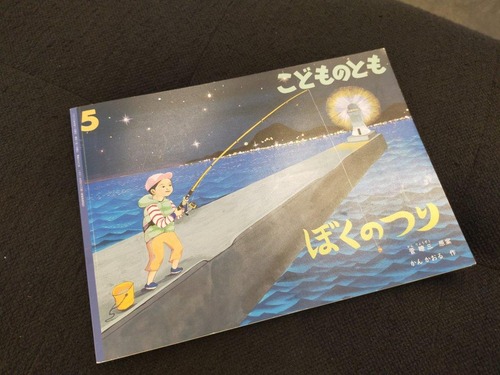 -Please tell us about any episodes you had when you were working on the film.
Boku no tsuri" is a story about a father and the main character, me, who wakes up early in the morning and goes fishing, so I went to the sea, which I remember many times, and went fishing with my nephew.
I asked my friends' children to pose for me in various poses, and several children were mixed together to form "me.
I covered various oceans, brought them home, and worked on them in my head, consulting with my father's voice.
-Is there a particular scene you would like people to see in the pages?
I really don't want to tell you what I want you to look for, I want each reader to find their own favorite scene.
I want each reader to find his or her own favorite scene in the picture book.
I wonder if it was like this when I was a child.
Considering the amazing imagination of children, I think the freedom of the viewer is very important in picture books.
I wanted to create pictures that would allow the reader to enter the scenery of the picture book, actually experience fishing, and feel the sound and atmosphere of the sea.
Recently, I have received some comments on the book, such as that the dog that follows him all the time is cute, that it made me want to go fishing, that the father caught a lot of fish while the main character caught only one, and that the bait would be scattered if the rod was thrown like this. I was so happy to see that both adults and children were enjoying the picture book.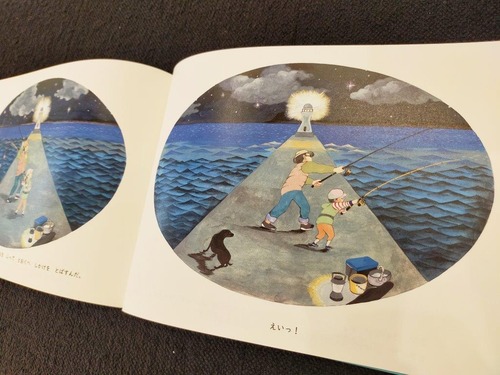 -Are there any new challenges you would like to take on in the future?
I have so many motifs that I want to paint, but I have never been able to create even one-tenth of them, but I hope to someday.
-Lastly, please give a message to the people who will see your exhibition.
I am grateful to be able to hold a solo exhibition at a time like this.
The world is going through major changes right now, and many changes are taking place in my small life.
For the past several months, every day has been a series of uneasy days, and I have been restless at home.
In the midst of all this, I am often reminded of things that remain the same.
For example, the summer tangerines in my garden are growing and the next flowers are blooming, or I hear the birds singing lively in the morning.
I think this is what many people feel.
I have come to feel more joy in the fact that the seasons are coming and going, something that was very natural to me.
Perhaps it is because I can feel the earth moving through time.
Maybe it is because I can feel the importance of each and every living natural thing.
For this exhibition, I have chosen to present the exhibition online instead of visiting the venue.
I have always valued having people see the paintings I create with the material of Japanese-style painting in person, and this is still the case today.
I think this method is completely opposite to that idea.
However, I would like to incorporate this method because I would like more people to see my works, and I would like to increase the possibilities of what I can do now, and perhaps discover something new.
The exhibition will remain open as before, but those of you who are away from home or still refraining from visiting the exhibition, please access it online.
We hope that you will enjoy the exhibition.
-Thank you, Professor. Kan!
The exhibition will be open until July 5.
Kaoru Kan Japanese Painting Exhibition
Friday, June 19 – Sunday, July 5
First Half 【Aqua】: June 19 (Fri) – June 28 (Sun) *The gallery will close at 17:00 due to a change of hanging.
Second Half 【Flowers】:June 29 (Mon) – July 5 (Sun)
Venue:Gallery Seek
Artist:Kaoru Suga
Kaoru Suga is a painter who is fascinated by the mystery and power of life-giving water, and continues to draw water as a motif. The rich curves and the legal straight lines created by nature are all equally wrapped up in one organic world. Flowers, goldfish, and seaweed are also depicted as happy symbols around water, and we invite you to view the works infused with an aesthetic and fundamental sense of color that they reflect on the water.
Online viewing is also available.
Guided tour by Gallery Seek + Kaoru Suga for 30 minutes per couple.
Please contact us by 6:00 p.m. the day before if you wish to view the exhibition.
We will send you a Zoom meeting ID and password.
For past interviews, please click here↓.
http://blog.livedoor.jp/soratobu_penguin/archives/9226227.html