We interviewed Mr. Masaaki Hikita, whose solo exhibition will open on June 25!
■"A Story in Your Eyes."

This time, I subtitled it "The Story in Your Eyes".
I created this work with the hope that each cat's eyes will hold its own story.
The actual cat's eyes show various changes in the expression of the iris and pupil depending on the time and angle, which is very mysterious and makes me feel like being sucked in.
I would be happy if the viewers can feel what kind of story they can see in the eyes of the cat depicted in the work.
■Production Process

The work I am introducing here, "Hina", was modeled after a cat I interviewed on Fukashima Island in Oita Prefecture.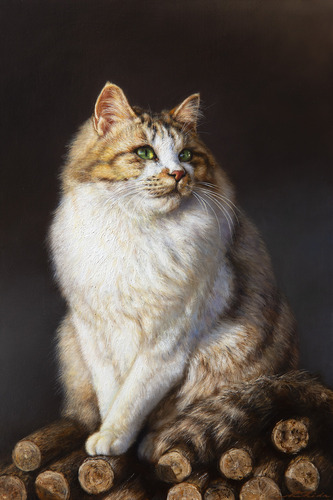 "Hina"P6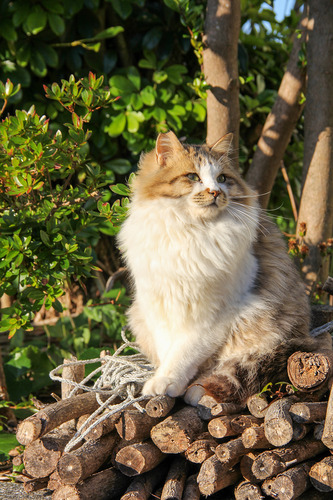 I also referred to the croquis I drew there.
As for the production procedure, I rub gray paint diluted with turpentine all over the support with cotton cloth attached to the panel.
There are techniques such as grisaille and camaille where I start painting with a single color, but in my case, after making a drawing and fixing it with a fixative, I proceed to paint with a specific color.
Although I use photographs as reference material, I always draw with a sense of form and space of the motif in mind.
From there, I repeat trial and error, interacting with the work until I am satisfied with it.
For more information, we regularly post videos documenting the entire production process of the piece on our YouTube channel, so be sure to check that out too!

https://www.youtube.com/c/HikidaCatArt
■The shining eyes that seem to be sucked into the depths
Oil paints are largely divided into transparent and opaque colors, but you can't paint shining eyes just by painting colors opaquely.
On the other hand, if you try to paint only with transparent colors, you can create a superficial brightness, but you can't create the depth that makes people feel as if they are being absorbed into the depths of the painting.
To begin with, use opaque oil paint to create a solid thickness of paint, then allow it to dry before glazing (*applying a thin layer of paint) with the transparent color.
Then, by repeating the process several times, such as drawing details partially opaque and glazing transparent colors, multi-layered and rich colors are created and the eyes become radiant.
■Modeled after the cats of Fukashima.
「Pride」F100

The model is Masa-kun of "mof.mof.", a cat cafe specializing in Maine Coons in Himeji City, Hyogo Prefecture.
Masa-kun has a formative beauty and elegance, and I have made several of his works.
I had drawn a similar pose in a previous work called "Miyabi", and I liked the proud and graceful expression on her face, so I drew it in a larger size this time.
The model is a cat living in Fukashima.
In this solo exhibition, I have created several other Fukashima cats. Fukashima is a cat island in Saiki City, Oita Prefecture, which is my father's hometown and my second hometown.
It's not widely known yet, but it's a wonderful island, very quiet and warm.
The cat that served as the model was impressive in the way its white fur shone on its chest in the sunlight.
By inserting bright colors into parts of the white fur and glazing the shadows with blue, the shining fur is expressed.
This work is also modeled after a cat in Fukashima.
He was an impressive cat with dignified eyes staring off into the distance.
For the eyes, the artist alternated between placing the paint opaque and layering the color transparently, and also inserted bright green and yellow in some parts to express the clear, shining eyes.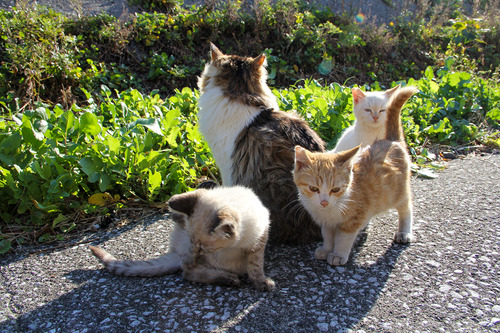 The cats of Fukashima (2)
Thank you, Dr. Hikita!
The solo exhibition will be held from Thursday, June 25 to Sunday, July 4.
In addition to the works introduced above, a total of 10 new works will be exhibited.
Mr. Hikita is scheduled to visit the exhibition on June 26(Sat.), 27(Sun.), July 3(Sat.), and July 4(Sun.)!
Please take this opportunity to view the exhibition.
Click here to read the previous interview.
◇2019 Interview.
Interview with Masaaki Hikita 2019 : Gallery Seek Official Blog (livedoor.jp)
Masaaki Hikita Oil Painting Exhibition -Story in Eyes
Friday, June 25 – Sunday, July 4
venue:Gallery Seek
exhibiting artist:Masaaki Hikita
Artist Visits: June 26 (Sat), 27 (Sun), July 3 (Sat), 4 (Sun)

Masaaki Hikita has a background of becoming a painter after graduating from the Faculty of Science and Engineering at Ritsumeikan University. His works are mainly cats and women, but women's skin is glossy and their hands are carefully drawn in detail, and cats' fur is soft and even their eyes have a translucent beauty. The word "realism" has been in vogue in recent years, but I feel that she is not caught up in it, but is carefully applying her own sensitivity and sense of beauty to her works. In this solo exhibition, we will show mainly cat works. Since he first met cats, he has been sincerely dealing with them. He says that sometimes he has been saved by their existence. We hope that you will take this opportunity to view his solo exhibition, "The Story in Their Eyes," in which the artist's thoughts and feelings are projected into the beautiful eyes of cats, spinning out a story.