Gallery Seek will hold a solo exhibition by Raoh Tanaka from April 8th.
In 2014, Mr. Raoh Tanaka became the world champion in caricature (a portrait drawn with humor to highlight the personality and characteristics of a person). Since then, he has been active as a painter. We asked him about the thoughts and feelings he puts into his paintings.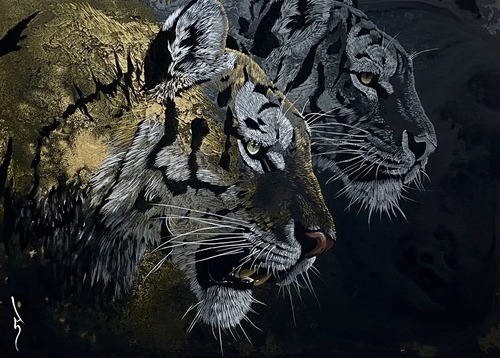 "Must win" P30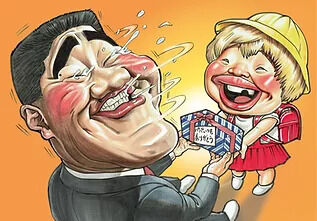 From Tanaka Raoh HP: Caricature work
Tanaka Raoh HP:https://www.raou-tanaka.com/about
■Dual wielding of caricature and painting
I started caricature with the aim of becoming a world champion, but when I achieved that goal in 2014, I became a painter. Caricatures are technically very high-dimensional and worth pursuing.
Paintings reflect thoughts and mental aspects, so I think it is an expression that is more closely related to the artist's way of life. I believe that growth as a person leads to improvement in expressiveness.
■production concept
I think that good drawing is realism. How can you draw realistically?
This is due to the fact that since I was a child, I have thought that pictures like photographs are good pictures. I'm here.
However, I think that it is not necessarily the case that a good picture with high realism is a good picture.
When realism is everything, nothing beats photography.
I believe that a good painting is one that stirs the imagination of the viewer.
I think people are creatures that want their imaginations to be stirred.
Because people know that life can be anything depending on the imagination.
I am a person whose imagination has been nurtured by paintings, so I want to be a painter whose paintings can inspire someone else's creativity.
I believe that a solid basic technique is important in order to express the imagination clearly.
There is nothing more frustrating than being unable to fully express the image in your head on paper due to lack of skill.
Also, I believe that not neglecting the basics is the minimum manner for painting that brings out the best in me, as well as sincerity.
Aiming for powerful works, I draw pictures every day.
"roar" M30
■The theme of this solo exhibition
"Encouragement" is the theme of the entire production. In a world full of unreasonable things, negative emotions alone won't move things. I am working hard every day to draw pictures that can push the backs of people who have the courage to stand up to change something.
"Waiting for Spring" P10
■Imagination created by "margins"
I draw animals as motifs because I am attracted to the purity of their way of life and the dynamism of their movements. As a painter, I thought that the thick armor that I wore to fit in with society was unnecessary, so I had to use pure life as a motif in order to take it off.
In addition, I draw so that you can feel the reverberations of the breathing and movement of living things in the "margins" where the animal's eyes and specific motifs are not drawn.
I hope that when the viewer sees the brave animals depicted in the paintings, they will be able to project themselves into the paintings, and that they will be inspired by the situation in which they are placed.
Thank you, Professor Tanaka.
The solo exhibition will be held from April 8th (Friday) to 14th (Thursday).
April 9th ​​(Sat) and 10th (Sun)  Professor Tanaka will also be attending from 13:00 to 17:00 each day.
Please take a look at this opportunity.
"Raoh Tanaka Exhibition -Inspiration-"
April 8th (Friday) to 14th (Thursday)
venue:Gallery Seek
Exhibiting artist:Raoh Tanaka
Artist visit dates: April 9th (Sat) and 10th (Sun) 13:00-17:00 each day