Professor. Izumi Kawamoto will hold her first solo exhibition in a year starting on Tuesday, August 4.
We spoke with him!
–What is the theme of this exhibition?
We took color as sound and subtitled it "Research", and aimed to create a screen where you can hear classical music.
The concept that is consistent is serenity.
Each of the motifs are cloaked in a quiet, soft light, creating a sense of calm and tranquility.
-Why the subtitle "Research"? 
My production is always with my favorite music. 
I always listen when I draw, and I can't draw without sound. 
It could be Rachmaninoff, Chopin or Liszt, and many of them are piano pieces or concertos. 
I listen to their sweet, delicate, and sometimes grandiose music and am empowered by it, but I always think that I can't compete with music, but I want to play sound with color. 
-Is there a song that was heard in each of the works this time around? 
I don't have a specific one, but I like classical music. I choose sounds that feel good and fit well with the motifs and compositions I'm working with. 
Also, I prefer to listen only to my favorite performers, because the same song sounds different depending on the performer's performance. 
What I heard a lot this time was the piano concerto by Kyohei Trita. 
As you can see in the picture, the songs are mainly Rachmaninoff's Piano Concerto No. 2 Op. 18 and No. 3 Op. 30 on the CD, and I listened to it repeatedly without getting tired of it. 
Then there are Chopin's piano pieces (Ashkenazy) and violin (Midori Goto, Daishin Kashimoto). 
I paint with the feeling that you can hear the sound from the screen….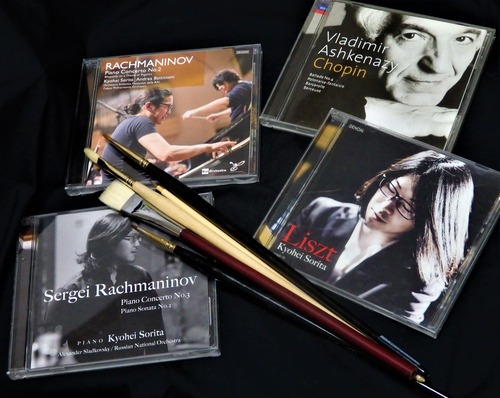 –This is your first solo exhibition in about a year.
Is it the kind of work that is completed by the title?
For example, with flowers, I try to bring awareness to the flower, not just its color and shape.
I started to look up the language of flowers and make it relevant to the title.
When I think of the title as a part of the work, I feel that it is connected to how you want to show the work and the message you want to send to the viewer.
In the past, I often used only the names of motifs that I had combined because they were still lifes, but since last year, I have been putting emphasis on the title of the work+I started to think of the title as one work.
–How does the title come to mind?
Some of them have a title at the beginning, but many of them come to me while I'm drawing them.
Sometimes it's hard to come up with something, and only the picture is finished first, and I have a hard time figuring out what will be the right fit. I sometimes have a hard time finding the right fit.
It makes me so happy when a title comes to me in the middle of a production and it sounds like a great idea!
I've also found that it makes it easier to finish because I feel more comfortable.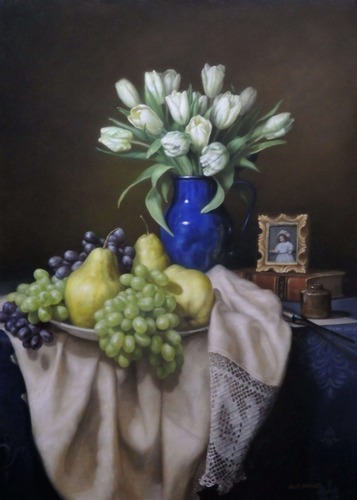 "Homeland."P30
For example, "Mochigo" is set in a long time ago in Europe.
This is a work from the perspective of a father who is trying to write a letter to his beloved daughter, who lives far away from him, wishing for her safety.
The man is widowed and is left with a daughter. Because of his work, he lives in a faraway country, leaving his daughter in a boarding house or with a nanny.
Fruits and tulips are not the same season, but the white tulips symbolize a young and dainty daughter and the hope that we will see her in the spring.
Fruit is a part of my desire to feed my daughter.
The situation was around the time of the Spanish flu.
It's hard to see him as much as I'd like.
I painted this scene, thinking of my daughter in the photo sent to me and trying to write a letter to her, wishing her well.
I didn't start drawing under the current situation, but I ended up with a similar feeling.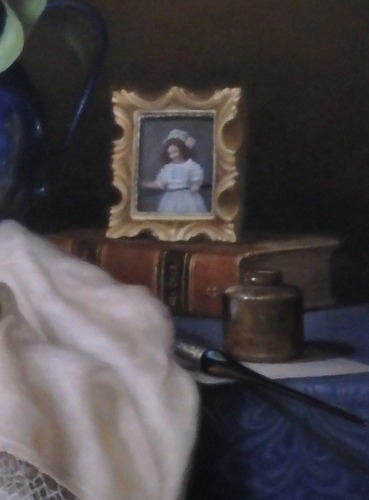 Many of the frames, books, fabrics and postcards are French antiques.
The pen is a fake Italian antique pen.
A heaping flower that looks like it was thrown in.
The soft night breeze is blowing, and I can hear the faint sound of the leaves rubbing against each other as they sway in the wind.
I aimed to create a screen that reminded me of the sound of such tamayura.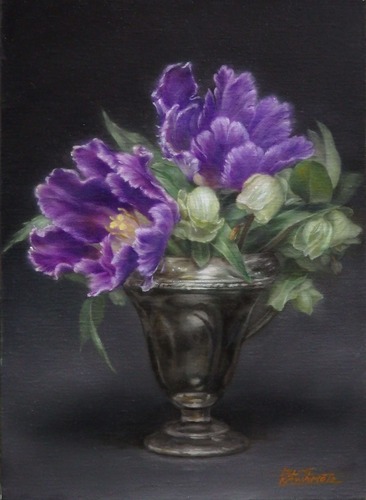 "The same thoughts…"F4

In the language of flowers, the purple tulip means 'undying love' and the Christmas rose means 'don't forget'.
–Which of the works in this exhibition would you like people to see the most? 
15Pの「Melody".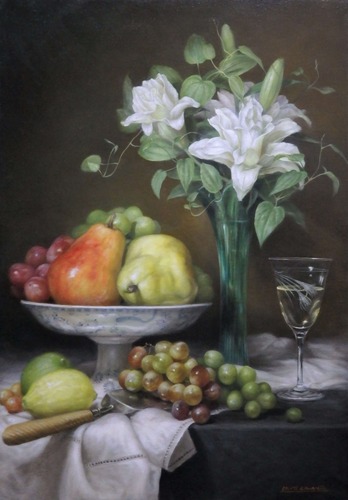 This piece contains several kinds of fruits in addition to lilies.
I didn't set out to create this picture, but in terms of the hue circle, it contains almost all hues except for purple.
Various colors resonate in harmony around the red pear, as if a quiet melody can be heard on the screen.…I finished it with a thought.
–Where do you get inspiration for your work?
It is born from encounters with the fruits and flowers you actually see.
It's hard to feel like painting with just an inorganic vessel.
When I come across fruits and flowers with beautiful or unusual colors and shapes, I am always inspired to draw them.
And while I was thinking about the combination with the vessels I had on hand, I decided what I would put into the work.
–Finally, please give a few words to everyone who will see your solo exhibition.
2020In the year 2020, a completely The world has changed, but my life with production is still the same as before. font-size: 11pt;">Whenever I see or hear about the state of the world, my mind is often disturbed, but in that moment when a color appears from a stroke of a brush and I feel its beauty, I regain my serenity and am taught the importance of equanimity every day.
My production is always with my favorite music.
I hope that this new work, which is not a large number by any means, will be able to drop a quiet sound in your heart.
Thank you, Professor. Kawamoto!
The individual exhibition is8Month16day(day)is held until
Please take a look.
Previous interview is here↓.
http://blog.livedoor.jp/soratobu_penguin/archives/8845309.html
Izumi Kawamoto Oil Painting Exhibition
Tuesday, August 4 – Sunday, August 16
venue:Gallery Seek
Writers:Izumi Kawamoto
Date of the artist's visit: Tuesday, August 4, 13:00 – 17:00
Izumi Kawamoto's painting career began with tall paintings. After that, she studied under oil painter Tetsuya Mishima, and her main works are still life paintings of fresh fruits and vivid flowers. The artist herself says that it is a fun job to think of a scene in time by matching it with old things such as tableware, glasses and vases that she has. Her works, which are made with a great deal of attention to color compatibility and expression, reveal her sense of style and high level of perfection. The subtitle of this solo exhibition is "Research"Considering colors as sounds, the exhibition is like listening to classical music. Please come and see the works which are clothed with soft light in stillness.