We spoke with Dr. Musashihara, whose solo exhibition will be held at the Kintetsu Main Store in Abeno Harukas from November 10!

■How did you get started drawing animals?
I think many people have the urge to touch something fluffy and familiar.
Watching my kids constantly need to have a certain blanket of blanket material under their skin, whether they are like me or I still have some of it left…
Even now, I'm told that I'm still very particular about things like the materials of my bedding.
When I was a kid, my parents had hamsters, paper birds, chicks, and dogs. But they were all white!(笑)
We also had a large dog, a Great Pyrenees.
As a dog person myself, I don't really like breeds with smooth, shiny fur, so I still think animals have a visual and skin-feel preference as well.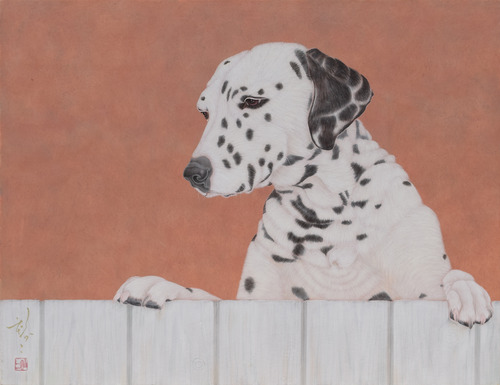 Beyond, p. 10.
I'm often asked what inspired me to draw animals, but it wasn't anything in particular. Looking back, I remember that while the university had assignments and fixed themes, I drew animals for all of my free assignments, my graduation project, and my final project, which could be anything. So even after graduation, I naturally continued to draw animals.
Animals are more of a fantasy world than a pet world, but I long to be friends with them and spend time with them in the world.。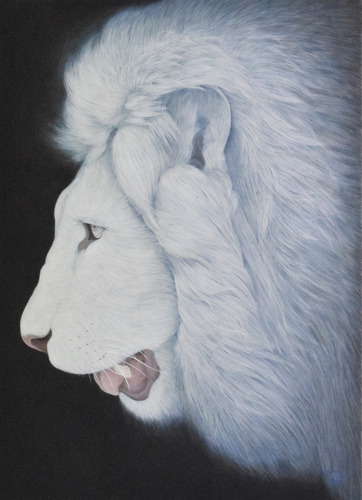 The White King, p. 8.
■My obsession with the animals I draw
I don't necessarily draw any kind of animal, but I draw what I like and what I want to draw.
I like big white animals, and I often like to paint them white. I paint the fur with yellowish-white mineral pigments to give it thickness and warmth, and then add a layer of white transparent gofun to broaden the range of the white color.
The white color of the bird is painted only with gofun (powdered gold dust) to make it light.
And because I love fluff, I'm particular about the softness of the fur that makes me want to touch it.
Some of the animals have hard fur when you actually touch them, but we value the feelings we see and feel.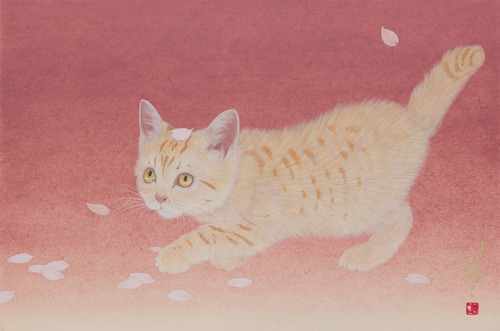 "Spring is coming."P6
■The seasonal atmosphere and the atmosphere of the animals are conveyed only by the "color" of the background.
There are various ways to feel colors, such as warm or cold, gentle or cold. In Japan, there are four seasons, and each season has its own associated colors. In order to reduce the amount of explanation on the screen as much as possible, we don't draw a background. Therefore, I used such color effects in the background (margin ) to create an atmosphere. Also, the image of the animals and the colors are used to create the atmosphere.
■production process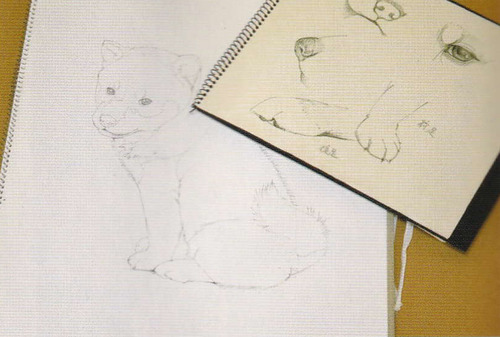 the lower illustration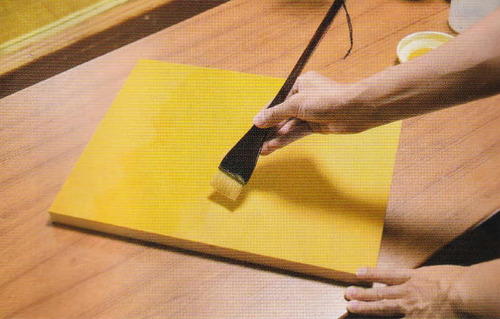 Background coloring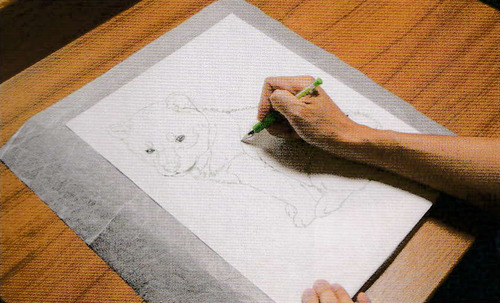 transliteration

The steps of many of my works are: making a sketch, coloring the background, transferring, and coloring the animals.
I don't want to draw the fur with lines to make it look fluffy, so I don't draw the bones.
When transferring, to blend in with the colors, the black parts are transferred in gray, and the other parts are transferred on a piece of paper that is white (paper that serves as a reminder paper).
The black hairs are drawn in black, and the other colored hairs are drawn in ivory (white). If there is no color in the base, the lines of each hair will not come out. Moreover, if you paint the background while avoiding animals, brush marks will inevitably appear, so you should work on the whole area first. If the background is painted first, the color of the animal's fur will be lost, so even if the animal has brown or other non-white fur, the fur should be painted in white.
However, depending on the picture, I may make 5 or 7 split backgrounds, transfer, draw animals, and then do the rest of the background. I also do the rest of the backgrounds after drawing the animals and plants.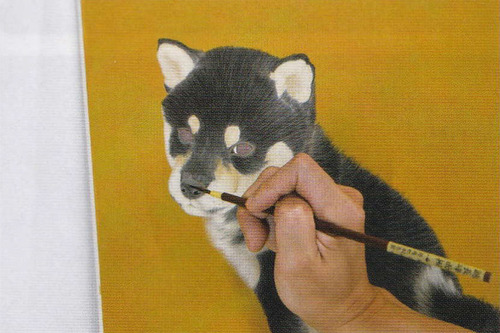 colouring (a drawing)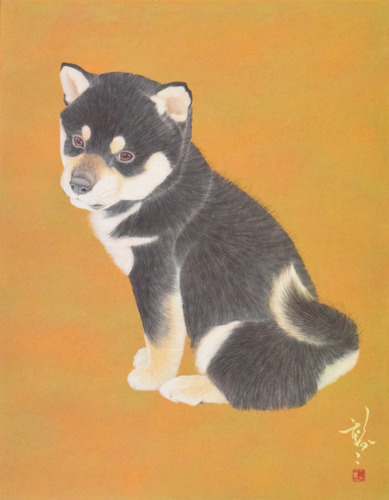 completion
We have a clear image of the finished product, work backwards to figure out which route will be most effective, and change the process accordingly.
I paint the background, but the animal itself is basically painted standing up. The reason is that I want to apply the brush to the screen at a right angle in order to draw thin lines. I draw the fur with the brush at a right angle to the screen because I can draw it quickly and easily in many different directions.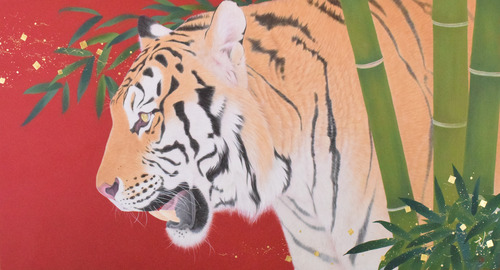 "Tiger and bamboo."622×1167(㎜)
■Yuji Takezabara Japanese Painting Exhibition -Loving Animals
This will be my first solo exhibition in Kansai. I often like to draw tigers, and since it is the Chinese zodiac sign for the coming year, I have created a series of works including yellow and white, adult and child tigers, with "Tigers and Bamboos" as the main motif.
I have also lovingly drawn my favorite animals that I have met all over Japan, from small intriguing animals to large fierce beasts.
Thank you, Takezabara-sensei!
The solo exhibition will be held from Wednesday, November 10 to Tuesday, November 16.
Yuji Musashihara Japanese Painting Exhibition -Loving Animals-" (Japanese only)
Wednesday, November 10 – Tuesday, November 16
venue:Abeno Harukas Kintetsu Main Store, 11th floor, Art Gallery
exhibiting artist:Yuji Muzuhara
Artist Visits: Saturday, November 13 and Sunday, November 14, 13:00-17:00 each day

Yuji Takezabara skillfully depicts realistic and rich expressions of animals in his Japanese paintings. He says that he naturally chose animals as his motifs because he likes them. Not only do he find their gestures, expressions, outfits, shapes and patterns fascinating, but also their cute, cool and interesting fur and other aspects that are cute, cool and interesting, which make him feel the urge to touch them. In her spare time, she stays overnight to interview animals all over Japan to understand them not only from the superficial point of view but also from their ecology, and she expresses their dynamism and life force through her deep knowledge of animals. Since the Chinese zodiac sign for next year is "Tiger", I will be exhibiting mainly "Tigers and Bamboos" in this solo exhibition, and I will also be showing adult and child tigers. We hope you will enjoy viewing his works, which are filled with his love for a variety of animals, from the small animals he has encountered in various places around Japan and which have attracted his interest, to large, ferocious beasts.