We interviewed Ms. Kana Satake, who will hold a solo exhibition at Kintetsu Department Store in Abeno Harukas starting tomorrow, Wednesday, July 15!
-Please tell us about the theme of your solo exhibition.
The theme is the four seasons.
I painted plants from time to time and everyday scenes as I see them.
I created the plants and things I wanted to depict one by one.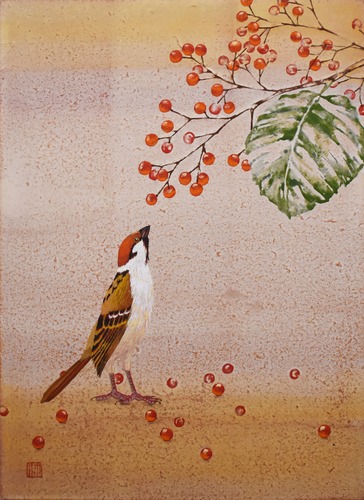 Darkness Underfoot" F4
-What is the meaning of the subtitle?
I chose the subtitle "Yearning for the Four Seasons.
When a certain plant blooms, we feel that spring has come, and when we find fruits on a certain plant, we are surprised to see that it is already that time of year.
People and nature have a close relationship, and I like to live in such a way.
I chose this subtitle because I do not want to forget this feeling forever, especially since the four seasons have become so blurred.
-When do you feel that you are in close contact with nature?
As mentioned above, of course I feel the change in plants, but what makes me feel the seasons more is when the temperature of the wind changes.
One winter day, when I stepped outside, I was impressed by the warmth of the wind. I was moved by the warmth of the wind.
I was relieved that winter was finally over. I am very sensitive to cold.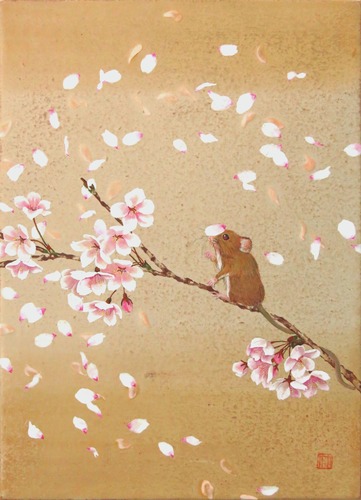 The Wind" F4
F4 – Have there been any changes in your state of mind during the course of the production of this film?
Recently, I have been thinking about many things due to the new coronavirus.
Even for a single interview, I felt how grateful I am to be able to go to the right place at the right time for a limited number of flowers.
I felt so grateful to be able to go to the right place at the right time, even if it is just for one interview.
-This is your first solo exhibition at Abeno Harukas in about two years.
No major changes. I am still chasing sparrows using clay paints.
However, in creating works based on the theme of play, I began to paint works with historical motifs.
For example, Ushiwakamaru and Benkei, Takeda Shingen, and Tachibana Michiyuki.
I enjoy replacing them with sparrows and making them look a little blurry.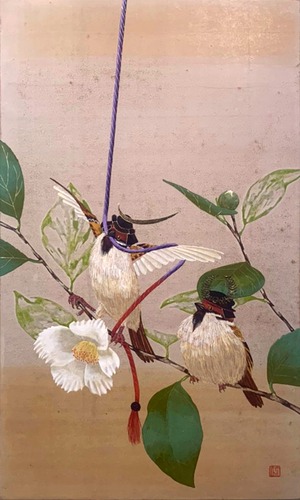 Tug of War: The Summer Campaign" M8
This work depicts Masamune Date and Ieyasu Tokugawa from "The Battle of Osaka".
-How did you become interested in history?
I am not a specialist, but I have always liked history and proverbs.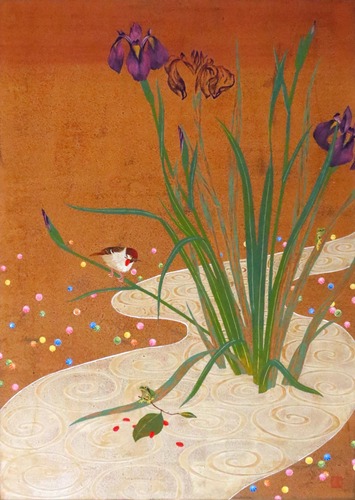 Leafy Target, p. 30
I also like to trace food culture and have used sweets as motifs, such as rice cake flowers and cocoon ball ornaments.
The "Leaf Target" is actually based on the "Fan Target" from the Tale of the Heike.
The Genji and Heike clans are facing each other by the sea, and the Heike holds up a fan as a target on a boat and provokes them to "try to hit it.
Nasu Yoichi, a master archer on the Genji River, successfully shoots down the fan and is praised by friend and foe alike…the story goes.
Nowadays, I enjoy researching what kind of people were there and how they lived wherever I go in the exhibition.
And just by doing a little research, I can find interesting anecdotes.
-What are some of the new challenges you would like to take on in the future?
I would like to draw works that use history and proverbs.
My knowledge is still limited, but there are still many interesting anecdotes.
Recently, I have been interested in Masatsune Tsuchiya.
I would like to paint him someday.
-What is the work you would most like people to see in the exhibition?
It's the one that was used for the DM.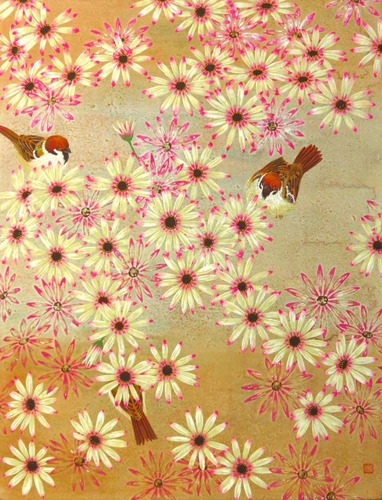 At this place again" P10
The motif is an osteospermum, a flower that bloomed in our flower bed.
It was beautiful and impressive that for some reason there were so many blooms this year that they seemed to be buried in the ground.
There seem to be many other colors besides the colors of the artwork.
I put a feeling that I hope to see them again next year.
-Lastly, please give a message to everyone who will see your solo exhibition.
Thank you very much for visiting my exhibition on the occasion of the Corona Disaster.
I hope that it will bring you some peace of mind.
Thank you, Professor. Satake!
The solo exhibition will open tomorrow, Wednesday, July 15.
This is his first solo exhibition at Abeno Harukas in two years.
Please take this opportunity to visit the exhibition.
For past interviews, please click here↓.
http://blog.livedoor.jp/soratobu_penguin/archives/9212168.html
Kana Satake -A Longing for the Four Seasons
Wednesday, July 15 – Tuesday, July 21
Venue: Abeno Harukas Kintetsu Main Store, 11th floor Art Gallery
Artist:Kana Satake
Artist Visits: Saturday, July 18, 13:00 – 17:00
Kana Satake creates Japanese paintings based on the theme of "everyday life" using small animals such as sparrows as motifs. In our daily life, we develop various emotions. She paints to reaffirm feelings that we tend to forget, such as gratitude to others and emotion toward nature. The use of clay paints gives the paintings more depth and impresses the viewer with the presence of the main character in the paintings. This will be the second time he will be exhibited at Abeno Harukas. We hope you will take a moment to pause and enjoy the peaceful expressions of the animals.