We talked to Ms. Marino Miura (Miura Marino), who will hold a solo exhibition from Friday, September 18we talked to her!
-This is your first solo exhibition at Gallery Seek, isn't it?
What was the concept behind the production? 
The concept of the work is "A Little Happiness".
With the hope that we can savor the richness that is around us and cherish the feelings and sensations that come to mind each day.
The shapes of nature and the expressions of small animals sometimes overlap with events in the human world and teach us about casual but important activities. 
-What is the meaning of the subtitle of your solo exhibition? 
The subtitle of this year's show is "Bless your playful heart".
The exhibition also features more works with frogs.
The first animal I drew in copperplate was a frog.
I was a college student at the time, studying oil painting, but I was struggling with the subject matter and was afraid to paint because I felt I had to do something special.
That's when I painted a frog that was familiar to me as a child in my copperplate art class, and it was simply delightful, a true "frog in a child's mind" event.
Frogs don't have tails, so they look like humans and are easily anthropomorphic.
I took this opportunity to draw small animals a lot.
I use the perspective of finding interesting things in life in my picture making. 
-What are the seeds of creation? 
It is inspired by moments of serenity experienced in life.
For example, the title "A Stream of Light" is about a "ladder of light" falling from the sky.
When I was a child, I used to see that beautiful sight on my way home from school and it soothed my heart.
When I looked at it when I was depressed, it made me feel positive. 
"The murmur of light."
Hahnemühle paper, gampi paper/etching, single plate multicolor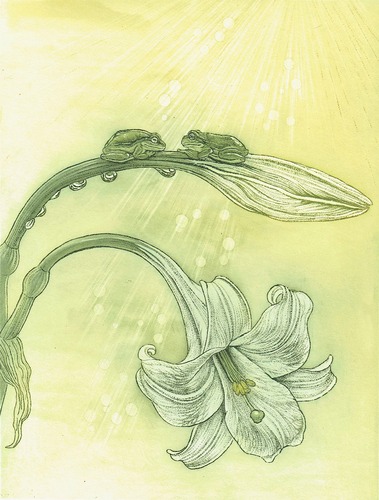 "Heart to Heart"
Hahnemühle paper, gampi paper/etching, single plate multicolor
The title "Isshin Denshin" (heart-to-heart communication) was inspired by the image of two frogs facing each other on a lily blooming in my garden, which overlaps with the relationship between friends, lovers, and family members who are in touch with each other.
In his works, he depicts this figure in a pictorial composition.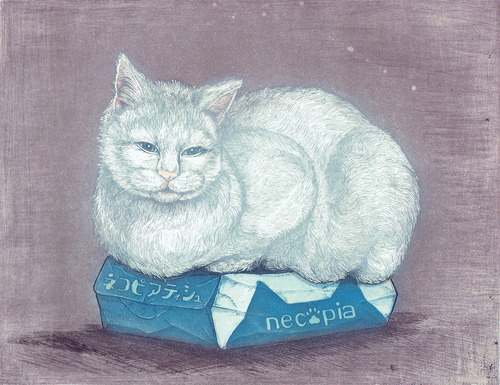 "The Box Seated Mesotte."
Hahnemühle paper / etching, single plate multiple colors, hand-colored
The title of the work, "Method of Sitting on a Box," depicts a domesticated cat sitting on a box of tissues and relaxing.
He is said to be in a relaxed state using a sitting method called Kabako-sitting. 
I drew the fun of sitting on the box as it is.
Each of us humans has a place where we feel at home. 
As a child, I was able to discover fun in a limited environment.
As an adult, I have been so busy with so many things that I have lost sight of the richness that is right in front of me, but gazing at these small animals has brought that feeling back. 
We live our lives looking for emotional support in our daily lives. 
Playfully find small, fun things to do in life. 
I feel that the accumulation of such things enriches the heart and attracts happiness.
-What do you want people to see most in your work?
The expression of the animal.
It also incorporates parody elements to give it an innocent look. 
I'd like to draw your attention to the title. 
We use familiar words and puns to keep the humor alive. 
The prints are titled at the bottom of the screen so you can enjoy them along with the artwork. 
The title is like a "spell" to make the viewer feel positive!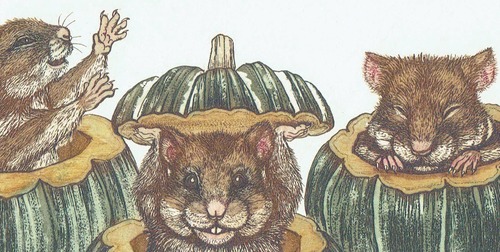 "Part of Bam Bam Bam Bam Pumpkin"
-Some of your works are based on your cats, aren't they? 
How are the animals interviewed? 
Based on animals I have bred in the past, I incorporate the movements I observed at the time into the concept. 
In the past I have kept goldfish, turtles, pigeons, rabbits, dogs, hermit crabs, hamsters and frogs. 
I used to catch grasshoppers, praying mantis, butterflies and other insects with my bare hands instead of using a net when I was a kid (lol).
Now I have a cat living with me at home and a lot of frogs living in my garden, so they are the models. 
Animals that cannot be kept are observed at pet shops, zoos and aquariums. 
I also look at books on animal skeletons for reference.
I choose an animal's gesture and make a picture according to the theme. 
– When did you decide to become an artist?
When I was in the fourth grade of elementary school, I wrote "painter" in an essay about my future dream.
I was terribly shy as a child, and when I was in kindergarten, all I did was draw pictures by myself.
It was during one of those days that a girl in my class said to me, "You're so good, draw a picture for me! I made a friend.
It was an experience that made me happy to draw pictures.
Since then, painting has become a source of inspiration for me.
– Mr. Miura, you studied oil painting at Bunsei University of Arts, but what made you switch from oil painting to printmaking? 
It all started when I was a student and created my first work in an etching class.
After entering university, there was a time when I was depressed because I was having trouble finding a theme to paint.
Then, there was a class on copperplate engraving, and as I mentioned earlier, I painted a small animal (frog) and was able to complete a satisfactory work.
After that, I was torn between oil painting and copperplate engraving for my graduation project, but I chose copperplate engraving.
Bunsei University of Arts does not have a printmaking major and does not have a full-time instructor of copperplate engraving.
My teachers and friends were concerned, but I went ahead with the project with the unfounded confidence of youth.
As a result, I won a prize and was able to use the prize money to purchase tools.
I was also selected for an exhibition at a gallery, and I was able to continue creating after graduation.
– Why did you choose etching among the many printmaking techniques? 
Copperplate prints are mainly drawn with dots and lines.
I thought it was suitable for the delicate expressions of small animals.
Once the plate is scratched, it is difficult to correct, but I feel that this creates a sense of tension and makes it easier to proceed with the work.
I was attracted by the fascination of the picture's surface, where the ink in the crevices of the plate becomes dots and lines with a three-dimensional effect when printed on paper.
The fact that the process is divided into "drafting, plate making, and printing" is also an advantage in that it prevents the work from getting bogged down in the process objectively.
– What is the production process? 
Prints are completed through the processes of "drafting, plate making, and printing.
(1) First, I decide on the size of the screen and make a rough sketch.
I have a kind of story book and usually sketch out ideas.
Some ideas are collected in advance and kept in reserve.
(2)Once a rough sketch is made, the image is engraved on a plate.
The copper plate is called an intaglio plate, and ink is filled into the indentations of the lines and dots shaved into the copper plate, which are then printed as a figure on paper.
Among the many techniques, etching is used.
This is a technique in which the plate is not directly scratched, but is instead etched indirectly through corrosive action.
A 0.8 mm to 1 mm thick copper plate is coated with a corrosion inhibitor, and a needle is used to scrape off the film.
(3)The plate is then dipped in a corrosive solution.
Only the part exposed by scraping off the film is corroded, and a groove is formed and the drawing is engraved.
The depth of the groove is adjusted by the length of the corrosion time.
The process is repeated by first drawing a thicker and stronger line, then drawing a thinner line, and then corroding it.
The first part of the line is corroded as time is added, and the groove becomes deeper. The thin lines have a shorter corrosion time, so the grooves are shallower.
The aquatint technique is also used to create a surface.

(4) The printing plate is completed by checking the progress of the drawing while making trial prints.
It is inconvenient to be able to check the state of the screen without printing, but it suits me.
When I print, the orientation of the drawing is reversed, and this gives me an objective bird's-eye view of the work, which is useful for making additions.
I use "one-plate multicolor printing," in which multiple colors of ink are packed on a single plate and printed in a single run.
The artist's sense of style comes into play in this process, which requires a knack for harmonizing the colors.
It is often a struggle to find the right order and combination of colors, but the moment when the colors are perfectly matched is enjoyable.
The artist also uses a technique called gampi-printing.
Using Hahnemühle paper as a base, I lay down layers of gampi-gami, a Japanese paper the same size as the screen.
The gampi-gami absorbs ink well, and the depth is increased by overlapping the screen.
Some works are partially watercolored after printing.
For more information, please visit our YouTube channel "Copperplate Frogs in Children's Hearts" to see how we work.
– What do you focus on the most in your technique?
The harmony of colors in printing.
My early works were mainly monochrome drawings of dots and lines, and I did not incorporate surface expressions.
Gradually, I thought that I could produce warmer images by incorporating color.
To increase the number of colors, there is also "multi-plate, multi-color printing," in which the number of color plates is increased to print more colors.
However, since I had painted in oil during the first half of my college years, I chose "one-plate multicolor printing," in which colors are printed on a single plate in different colors, just like in painting.
Copperplate printing uses oil-based ink, so the sensibility of oil painting is useful when thinking about color combinations.
Even with the same color ink, there are changes in the way the color appears when printed when it is in a line groove and when it is in a surface groove.
I find this interesting.
Copperplate prints tend to have a rigid expression, which is appealing, but my work has a warmth and narrative quality, so the expression of color allows me to create that effect.
– Why did you become interested in "print" expression?
I had been focusing on the drawing work of plate making, but the printing work is also important, and I wanted to hone my skills more.
In recent years, I have mainly used multicolor printing, but I would like to produce monochrome works again, which are expressed through this period of time.
– Which of the works in this exhibition would you most like people to see?
It is titled "The Sun Rises Again.
I painted six frogs welcoming the sunrise with morning glories from Mt.
Fuji for the first time, but it is a familiar motif that many painters have depicted for a long time, so I thought about how I could depict it.
Six frogs are often seen as ornaments for good luck. The word "six frogs" is a combination of the words "welcome" and "six frogs.
I would be happy if people could look at my work and feel positive in this world.
The "Sun Rises Again."
Hahnemühle paper/etching, single plate multicolor
– What artists and works have influenced you?
I was attracted to artists who depicted everyday life and familiar objects, regardless of genre.
Although my current style and technique are completely different from his, the experience of seeing Vermeer's "Woman Writing a Letter" when I was a preparatory school student left a deep impression on me.
At that time, Vermeer was the only painting in the exhibition, and the other paintings were by his contemporaries.
I was struck by the power of the painting.
I felt that the power to attract viewers is not only in the size and power of the work, and I learned a lot about composition and picture making.
I love Jakuchu Ito's "Naimushi-fu" (Vegetables and insects), in which vegetables and insects are deformed and made to look charming.
Among print artists, I like Yozo Hamaguchi.
I admire the way he sublimates familiar fruits and still life into a mysterious and deep world using mezzotint technique, which is superb.
I like the simple line drawings in his Birds and Beasts caricatures, which express anthropomorphic animals in a lively and vivid manner, and the sense of a world with a narrative.
– What is your most important attitude as a writer?
To enjoy the work from a third person's point of view.
I try to create my works from an objective point of view so that the viewer can enjoy them while giving them a personal touch.
In order to continue creating for a long time, it is important to devise ways to maintain motivation so that the artist himself can enjoy working on his creations.
It is not easy, but through trial and error, I do what I need to do in order to live by what I love.
For example, I study by interacting with artists who are active as full-time printmakers….
When I was in art school, there were many things I did not know, such as how to become a painter or how to make a living.
There used to be many printmakers, but the number is gradually decreasing, so I feel it is important to exchange information.
After practicing, I changed the way I do things to suit my own needs and am now making the necessary efforts.
– What kind of act is drawing for you?
It is a communication technique that broadens my connections with people, and it is my reason for living.
The encounters that arise through my work are something I look forward to in my activities.
– What are your dreams and goals for the future?
As for near-term goals, I have been doing printmaking for a long time, so I would like to start making paintings as well.
I would like to pursue delicate expressions, such as the fluffy fur of animals, using painting expressions that are possible only now.
– Finally, please give a message to those who come to see your works.
I think it is difficult to relax in these days when "normal life" is changing so rapidly due to the Corona disaster.
I have created works that will make you smile with a playful spirit.
The measure of happiness differs from person to person, but I would be happy if you could feel the warm and fuzzy feeling you get when you see a tea pillar standing up.
I hope my work will add color to your daily life.
Thank you, Professor. Miura!
Please come and see his first solo exhibition at Gallery Seek.
Click here to view Ms. Miura's YOUTUBE channel.
Frogs in Children's Hearts with Copperplate Prints."
→ https://www.youtube.com/channel/UCVZq6R3GJ3DkbAwQumdgBfQ
Marino Miura Copperplate Print Exhibition
Friday, September 18 – Sunday, September 27
Venue: Gallery Seek
Artist:Marino Miura
Artist Visits:Friday, September 18 and Saturday, September 19
Marino Miura is a copperplate artist. The theme she expresses in her works is "a little happiness. She depicts "stories of small lives" by superimposing them on small animals, plants and flowers. The animals, whose gestures and expressions heal and encourage us, gently remind us that there are important things in our lives that repeat themselves so naturally that we don't even notice them. If you look closely, you can see frogs secretly making eye contact with each other and small flowers and grasses hiding…. This is the first solo exhibition at Gallery Seek. Please take this opportunity to view them.