Amabie Challenge #2!
We recently introduced Eriko Tomoda's Amabie.
Click here to read the article.
http://blog.livedoor.jp/soratobu_penguin/archives/9600009.html
This time, we would like to introduce Masashi Ishitani and Yumi Yamazaki's Amabie Challenge.
Professor. Ishitani did her drawing in pencil on drawing paper!
Since this is a yokai that lives in the sea, the sea spreads out in the background and the sun shines on Amabie.
The sun shines on Amabie, who looks both divine and lovely.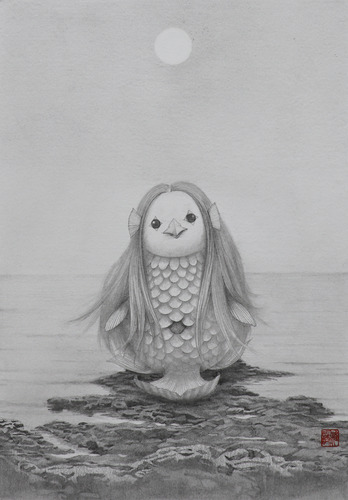 Masashi Ishitani 287×220 Amabiezu
Professor. Yamazaki painted amabie on LED candles with acrylic paint!
Professor. Yamazaki, a Japanese-style painter, has painted many works using candles as a motif.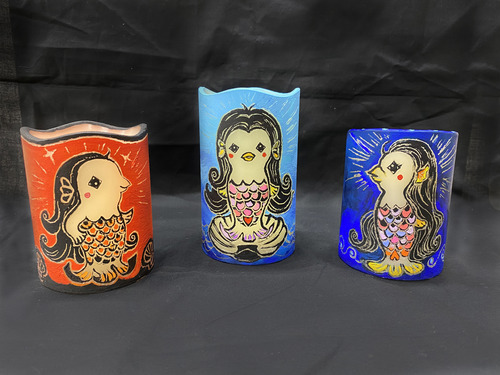 Yumi Yamazaki Amabiesama candles (from left to right: orange, light blue, night blue)
Size: Orange 100 x 75, Light Blue 120 x 75, Night Blue 100 x 75
When you turn on the light in the dark, light leaks from the unpainted parts, giving you a different taste of Amabie.
It looks lovely in a bright place and godly in a dark place, giving you a sense of its power to exterminate the plague!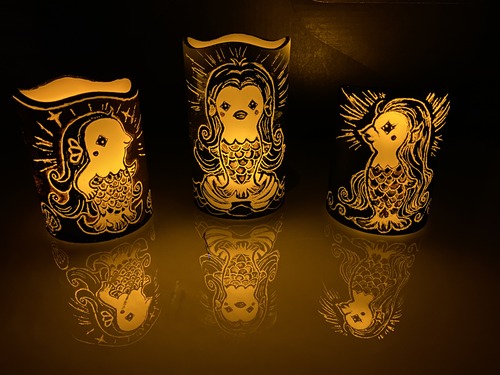 We wish you a speedy end to the coronavirus through the power of your wonderful works.
We may have a special exhibition of the above works at Gallery Seek in the future.