We are pleased to introduce the new works by Asako Morishita, whose solo exhibition will be held at Gallery Seek from November 26th. We asked her about each of the works in her solo exhibition and her thoughts on each one!
—————————————————————–
Asako Morishita is fascinated by the high athletic ability and vitality that animals have within them, and captures their loveliness and the beauty of their dignified lives. She captures the facial expressions and gestures of each animal and does not treat them as a part of a motif, but observes them with great care from the sketching stage, even down to the flow of their hair and feathers, considering their personalities and environments, and lovingly draws and expresses them in their own way, giving them a natural sense of the world. I draw imaginative scenes that evoke emotions, vitality and dynamism. Every time I sketch animals, I am reminded that we benefit from them and are kept alive in various situations, and I aim to create works that give thanks to the depth of nature's bosom, and that are filled with compassion and life. She created this new work with the hope that the viewer will be cheered up by the auspicious painting. We hope you can feel the joy of fruitfulness with the animals.



The process of making a ① chart below



Production process 2: Bone drawing and Gohko (Chinese lacquerware)


Production process ③ Color


Production process ④Finishing and completion
WM4
Autumn is a very busy time for chipmunks, but once autumn has passed and become a memory, they realize that the fruitful time was enjoyable and precious.


Fruitful Fertility WM4
I composed this picture with the vitamin colors of parakeets and fruits, hoping to give the viewer a cheerful feeling. I worked hard to combine the lively colors into one picture.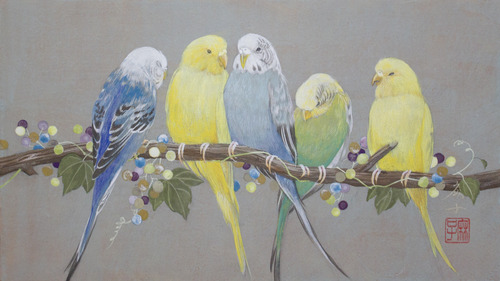 Quintet" M4
Five parakeets are singing a song and cuddling together. The charming parakeets seem to get along well with each other and recognize each other's color.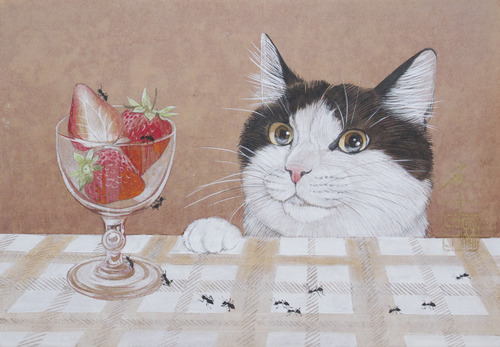 The Tasty MarchSM
I never get tired of watching the march of the ants. They seem to be interesting for cats too. I would like to give a delicious rest to hard working ants.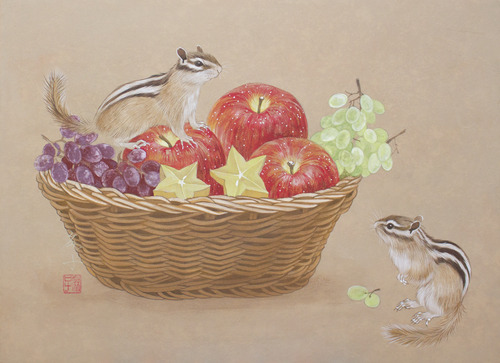 Fruits Basket, p. 8
This is a scene of sharing the harvested fruit with the chipmunks. I put a feeling of compassion and gratitude for the little animals.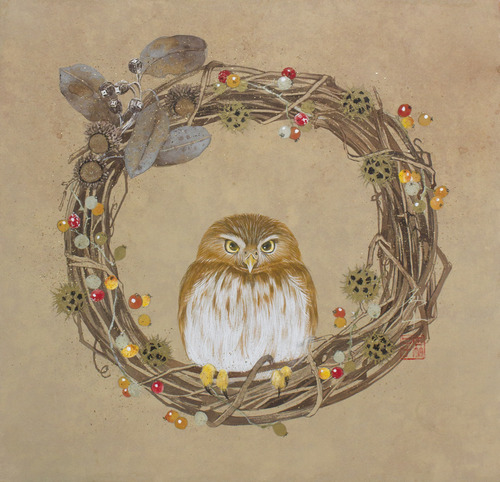 Autumn Fruits S4
This is a picture of a small Sparrow Owl and autumn fruits. I used to see the berries of the maple leaf owl on my way to school when I was a student. They remind me of the coming of autumn.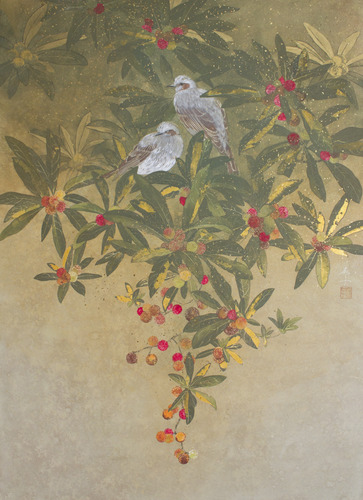 Yamamomo no Nuts" P20
In spring, chickadees fly around and start to prepare for raising their young. The many fruits of the mountain peach seem to be blessing such chickadees.
—————————————————————–
You can see more of Morishita-sensei's work here!
Asako Morishita | |Gallery Seek (s-art-web.com)
Asako Morishita Japanese Painting Exhibition
Friday, November 26 – Sunday, December 5
venue:Gallery Seek
exhibiting artist:Asako Morishita